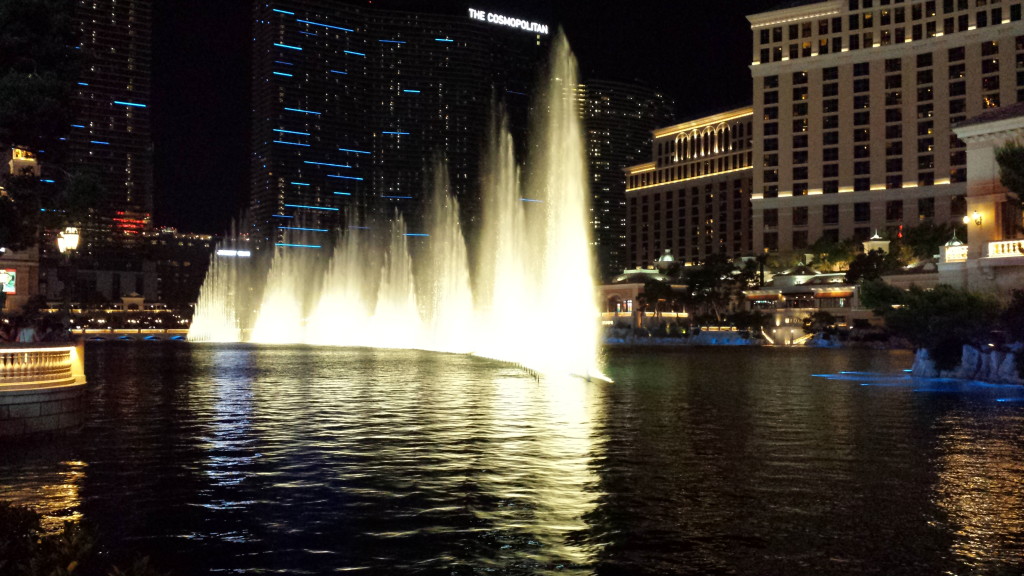 Last week at this time, my whole family was in Las Vegas, Nevada.  The kids and I tagged along on a business trip, with big plans to enjoy the pool, the free breakfast every morning, and the free happy hour every night (the bartenders were lovely and wonderful too… recognizing all six of us and remembering all of our chosen drinks after the very first night)
We were able to catch up with my cousins, one of whom was like another member of the family to us when we used to babysit her several days a week up until she was one.  She's four now, and beautiful, and Tegan's new BFF and honorary little sister.  We had a great time getting reacquainted, and spent several hours playing at the Children's Discovery Museum, which turned out to be the best children's museum I've ever gone to in my life.  We had a wonderful late lunch at a little family owned Mexican restaurant, where Tegan and Luna entertained us by dancing to the music.
In the evenings though, we did the whole Vegas tourist thing, and checked out the strip.  We've been to Vegas once before, but we mostly spent it going to shows and checking out the hotels and casinos during daylight. Seeing it all at night was a whole different proposition.  We'd park in one of those giant, ten-story parking garages, and just walk and walk, taking it all in.
We watched the fountain show outside the Bellagio.  We saw a light show set to rock music over Fremont street. We walked around an indoor mall/market thing with a high ceiling that was painted like the sky and made you feel like you were outside.  We saw about a zillion street performers doing everything from mime to playing music to making spin art to impersonating long-deceased celebrities.  We politely declined the dozens of people trying to hand us their business cards with the naked girls on them.  We stopped into a White Castle attached to a casino (because everything's attached to a casino), and had our very first infamous in-person White Castle sliders, which as it turns out taste exactly like the frozen version you can get at the grocery store.
As an aside, our choice of dinner made me want to watch the cult stoner movie, Harold and Kumar go to White Castle – I adore Kal Penn –  so we rented it the following night.  But the video had an error and quit during the last 20 minutes, so we never did find out if Harold and Kumar ever made it to White Castle!
But I digress.  The Vegas strip.  There were a lot of smells, and sounds, and colors, and lights. My first realization was that the very thing that made it all interesting and entertaining was the same thing that made it so very overwhelming.  It was the exact opposite of everything we embody.  And I don't mean that from a perspective of judgment;  it's just that we (well, at least the guys and I) are big introverts.  We're homebodies.  We're quiet.  We don't like to draw attention to ourselves.  We're…… basic.  What we saw over those couple of nights was very very much NOT basic.  It was flashy.  It was attention-grabbing.  It was loud.  

Tegan, who's seven and all about the sparkle and the only real extrovert in the family, absolutely loved it, right up until the point her feet got tired and she was ready to get back to the hotel. Loved it. Loved the glitz and the glamour and the costumes and the lights.  Loved the limos and the expensive cars.  Loved the ornate hotels and the fountains and the twinkling casinos.  Loved the pretty girls in the sparkly outfits (on a not unrelated note, this will forever be the trip in which she learned what a "pasty" is.)  She did not however love those guys with the metallic body paint who were statues one minute, and moving around the next.  They freaked her out.  I found them sort of strangely fascinating.
I found it all sort of strangely fascinating.
It was fun, and It. Was. Exhausting.  On the way home, we stopped to tour Hoover Dam, but otherwise made a beeline back to "basic."  We've been home since Wednesday evening, and I've barely gotten out of my sweatpants.  I've been puttering around home, enjoying sleeping in my own bed, getting reacquainted with Netflix, and catching up on normal, quiet, wonderfully mundane things like emails.
Going away is always fun, but returning home is glorious.
P.S.  Seriously though, did Harold and Kumar ever make it to White Castle??