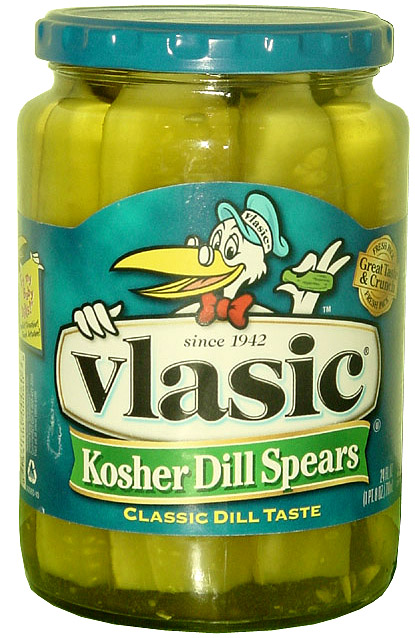 Everett (10 years old at the time of this writing) has a thing for dill pickles.  Every time we go grocery shopping, everyone is welcome to make whatever requests they'd like…. and his requests contain pickles 100% of the time.  It's not at all out-of-character for him to ask to stop for pickles at random times either, like when we're coming home from swimming.  Or gymnastics.  Or the mail box.  Once we walked to the dollar store – around a mile away – and came home with a few things, including pickles.  The bag broke on the way home, when we were literally across the street from our house.  Glass shattered, pickles everywhere.  We carefully picked up the mess, and I told him we'd get a replacement for him the next time we went out.  It was very sad, but was redeemed a little bit by the fact that I got to amuse myself by imagining the neighbors (whose house it broke in front of) coming home, sniffing, and saying to one another, "Do you smell…. pickles??"
When Everett gets pickles, the jar is opened, and the pickles are finished before it is ever closed again.  He does share… but for the most part, he polishes off the whole jar largely by himself.  I will joke with him that there IS such a thing as having a few pickles and then putting the rest of the jar in the fridge…. and he will respond with something along the lines of, "That's MADNESS!"
Yesterday, he was eating the last pickle in his jar, and he suddenly said, "Do you know WHY I eat the whole jar of pickles?"
Why?
"Because.  If I died, or the world ended, before I got to go back for more, my last meal would have been a single pickle.  Think about it.  Would you rather your last meal be one little pickle, or a whole JAR of pickles?"
……..
So there you go.  Important, irrefutable (if a tad morbid) life advice from Everett.
Eat the whole damn jar of pickles.