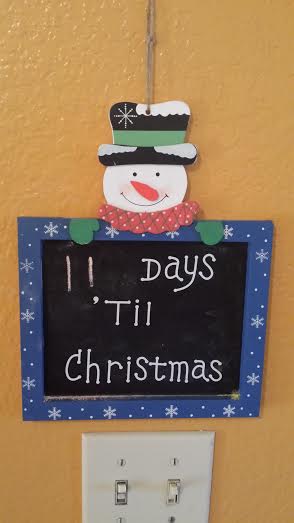 It's a week and a half before Christmas, which is always…. tricky.
I adore Christmas.  Love it.  Love the spirit. Love giving presents. Love the lights. Love the food. Love the Christmas cookies. Love hanging out with my family.
But it can be so BUSY, which, if left unchecked, can lead to stressful.  Exhausting. The exact opposite of what you'd want a holiday season to be.
This year I was well on my way to the latter.  I haven't been sleeping, I'm still smack in the middle of my recovery and rehab, I'm still in daily pain, the house has once again gotten away from me.
And there are gifts to wrap!  Plans to make! Events to attend!
There's a six year old, looking to her mom with love and expectation and wonderment, trusting that I'll make the season magical and fun and exciting.
I literally couldn't "do Christmas" at the speed I was going, and take care of all my other responsibilities, and focus on my recovery, and make things nice for the kids, and maintain any level of sanity.  
So, I started saying no.
The first thing I said no to was Christmas cards, even though we do them every year.  The pictures, the designing, the addressing, the stamping.  And you know what?  The earth is going to keep spinning even if all my relatives and friends don't get a smiley picture of the McGrails to hang on their wall for two weeks before they recycle it.
Then I said no to a writing project, one I'd actually really wanted to do, but that carried a deadline of ten days before Christmas.
I said no to adding 237 new cookies to my repertoire this year.
I said no to causing myself physical pain by making the house reach some magical level of cleanliness before we have guests.  They'll deal.
I said no to feeling like I needed to answer all my emails, or respond to everyone's questions, or to fulfill anyone else's expectations.  Yesterday morning, I got up and cleaned out my email box with one big (what I'd like to think was polite) response along the lines of, "I'll get to this after the new year."
I said no to doing, deciding, or thinking about anything that isn't a priority right now.
And those "no"s freed me.
Those "no"s mean that I can say YES to my girl, and to my family, who shouldn't have to pay the price for me not being able to say no when it's needed.
YES to a lazy day at the zoo.
YES to paper snowflakes.
YES to a movie and popcorn first thing in the morning.
YES to playing with new dolls.
YES to gingerbread houses.
YES to playdates.
YES to driving around at night just to look at Christmas lights.
YES to Christmas parties with friends.
YES to spending hours reconnecting over Pay Day or Minecraft or Little Big Planet.
YES to hot chocolate and whipped cream.
YES to carpet picnics.
YES to quiet moments, and loud moments, and silly moments.
The "yes"s come quickly and easily, or at least they do when I'm not bogged down with Very Important To-Dos (ie: things I probably need to say no to).  I often find it strange and frustrating how hard it is to say no sometimes. Why should it be hard?  Why shouldn't we be able to say no at any time, for any reason, and not give it a single moment of regret?
I can't be all things to all people at all times.  I said those words on my FB page just a couple of weeks ago, and I know I'll say them again.  I seem to need the constant reminder.
I can't be all things to all people at all times.
Because the thing is, there is nothing more important than my family, especially right now.  So when the moment comes and I have to make a choice…. when I feel that little tug of "But, but… you need to do this!  You have to do that!"  I'll answer, "You know what, as a matter of fact I DON'T."
This year I'm giving myself the gift of NO, and what a gift it is.