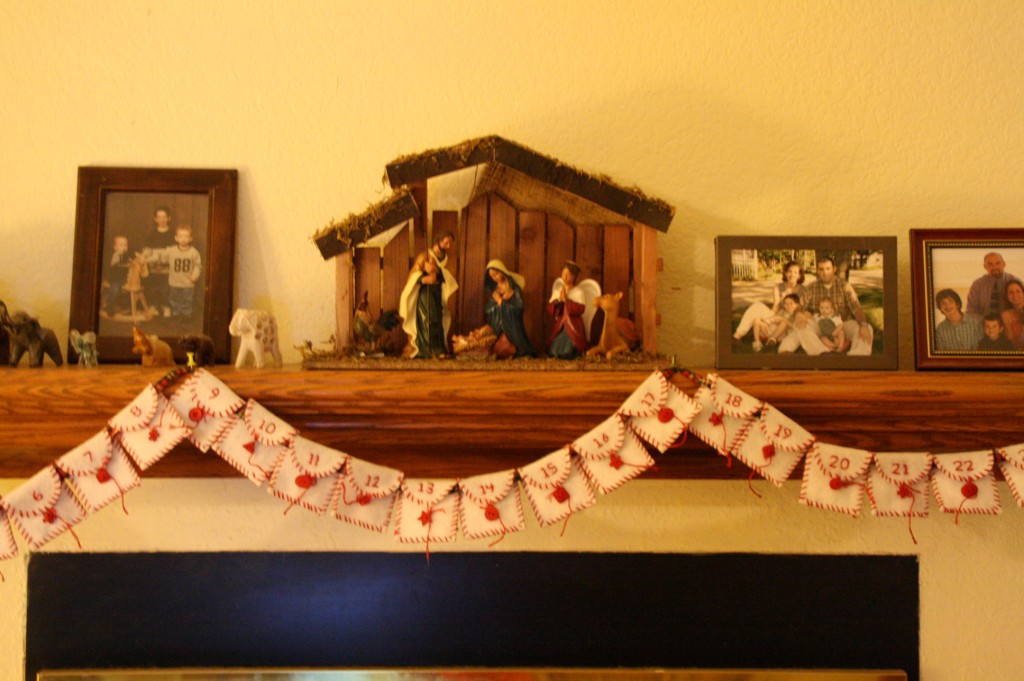 Yesterday was the first of advent, and so began what is arguably my favorite time of year.  The little ones saw a chocolate advent calendar at the store a few weeks ago, so this year that was added to the activity calendar and the Jesse Tree.  I also just got a sweet little e-book that tells a part of the Christmas story every day, along with a corresponding ornament craft.   And that's enough! 🙂
Yesterday, we went to the Dollar Tree to look for Christmasy stuff (and we actually walked there, for the first time ever, despite having lived just a mile away for FIVE years).  Today, we'll make paper snowflakes; and over the course of the next few weeks there will be Christmas parties, and cookie-making, and present-wrapping, and gingerbread houses, and movie watching and ornament crafting … all sorts of Norman Rockwell holiday goodness.
What won't be part of our pre-Christmas festivities?  This: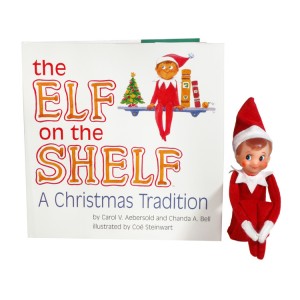 If you're not familiar with it, The Elf on The Shelf is a Christmas book and doll that tell the story of this elf (who kids can name and register online) who watches them every day and then reports back to Santa at night.  The next day, he is hidden by the parent  shows back up in your house in a new spot, all ready for more "Naughty or Nice" surveillence.  From its product page on Amazon:
Year after year, children and adults alike are baffled by the mystery of how Santa really knows who's been naughty or nice. After much urging by the elves and Mrs. Claus, Santa has allowed his biggest secret to be revealed in The Elf on the Shelf: A Christmas Tradition.
Where to start.
For those reading this who are about to get all upset with me ("What?!  What's wrong with The Elf on a Shelf?  We LOVE the Elf on the Shelf!  Our kids love it.  It's fun!  It's harmless!") I'd just ask that you hear me out.  Also, from what I can tell, those who use and love this elf generally seem to fall into two camps: Those who just use it as a fun and lighthearted little toy, a yearly tradition of hide-and-seek-Elf with the kids; and those who employ it as a behavior modification tool, a way to try to encourage improvement in their children's actions/attitudes/behaviors, at least for the month of the December.    I'm really speaking to the latter.
Reading through reviews on Amazon, and comments on Facebook, message boards, and the like, the theme is the same.
It really encourages good behavior!

My kids are so well-behaved in the days leading to Christmas now!

They're so afraid of doing something wrong and having it reported to Santa!
My question is this:  Do you really want your kids to behave a certain way because they're afraid that a creepy little elf is going to be watching them and reporting to Santa?  What happens in January when the elf gets packed away?
For that matter, do you want them to behave a certain way so that they get a gold star on a sticker chart, or a lollipop at the checkout line?
I know I don't.
Behaving a certain way for an external reward (or fear of punishment) is temporary, at best.  It's also not sincere, but just on the surface… no more than a means to an end.  Where is the meaning in that?  If you gave me $100 and told me to hold the door for a stranger, I would.  But how much more would it mean – for me and the stranger – if I did it for free, simply because it's a nice thing to do?  Bribing and threatening our kids to "behave" is like assuming that they wouldn't do so otherwise.  It's belittling them, and taking away their own power to do what THEY feel is right… not for a reward, not because of a fear of punishment, but because they want to.  If they're not given that chance, how can they show us who they really are?
I want my kids to behave the way they behave because they want to, because they are internally driven to do so, not because they'll get a lump of coal if they don't.