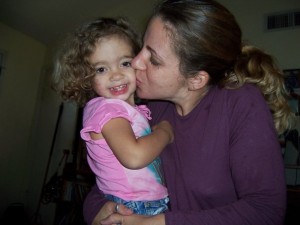 Christmas is less than a week away.
I'm not dreaming of sugar plums, but I am dreaming of Oreo balls, black and white cookies, and seeing the magic in my kids' eyes.   I'm thinking of family, and friends, and all the mushy love stuff I tend to avoid the rest of the 364 days of the year.  Christmas is about love, whether you celebrate the birth of Christ, or simply observe it as a day of fun, food and fellowship with those you hold near and dear.
I've been thinking about the concept of love ever since I read this article about a week ago.  These are parents that not only truly unconditionally love their children, but also support them and fight for them.   Parents who will do whatever they can to ensure that their children are happy, fully living the lives they were individually created to live.
That's the way I want to love.
I think a lot of (most?) parents will tell you that they believe in unconditional love, but in practice it's often easier said than done.  I've never liked those sayings that advocate things like telling your child you love him, but dislike his behavior.  Or that say we should "hate the sin but love the sinner."  Why?  For one thing, that line of thinking makes it far too easy to slide into the conditionality we wanted to avoid in the first place.  Perhaps more important is the fact that our actions speak the truth of our love far more loudly than our words.  Our words may be saying, "I love you unconditionally," but our actions may be saying, "I love you when you behave the way I want you to behave.  I love you when you make the decisions I want you to make.  I love you when you're the person I want you to be."  It can be very difficult for a child to differentiate.
And you know what, it can be hard for an adult too.
Five months ago I pierced my nose.  It was something I'd been wanting to do for a long time, so I was very excited to have finally gone through with it.  I was not, however, excited to tell my parents.  I knew how they felt about facial piercings and I knew what their reaction would be.  (Yes, I'm about to be 38 years old, and I still think about and want that acceptance from my parents)  The moment was brief, but negative as expected.  Now, did I know intellectually that they still loved me?  Of course.   But did I feel unconditionally loved by their response?  Not at all.  And if it felt that way over something as silly and inconsequential as a little piece of jewelry in my nose, how much more devastating it would be to a child dealing with something as huge and life changing as the girl in the article?  To someone dealing with an issue of gender?  Or sexuality?  Or any number of the other "big stuff" that we wrestle with in life, the things that make us want to find just one person to understand.
One person to accept us.
One person to support us.
One person to hold us and tell us sincerely not that they "love us even though…" but that they just. plain. love. us.
I want to be that person for my kids.