As most of you know, a few days after my 38th birthday, I decided that I was going to fulfill a very long-held wish and dread my hair.    A faithful friend came over and spent six hours carefully sectioning, backcombing, and keeping me company while we watched three whole chick flicks in a row.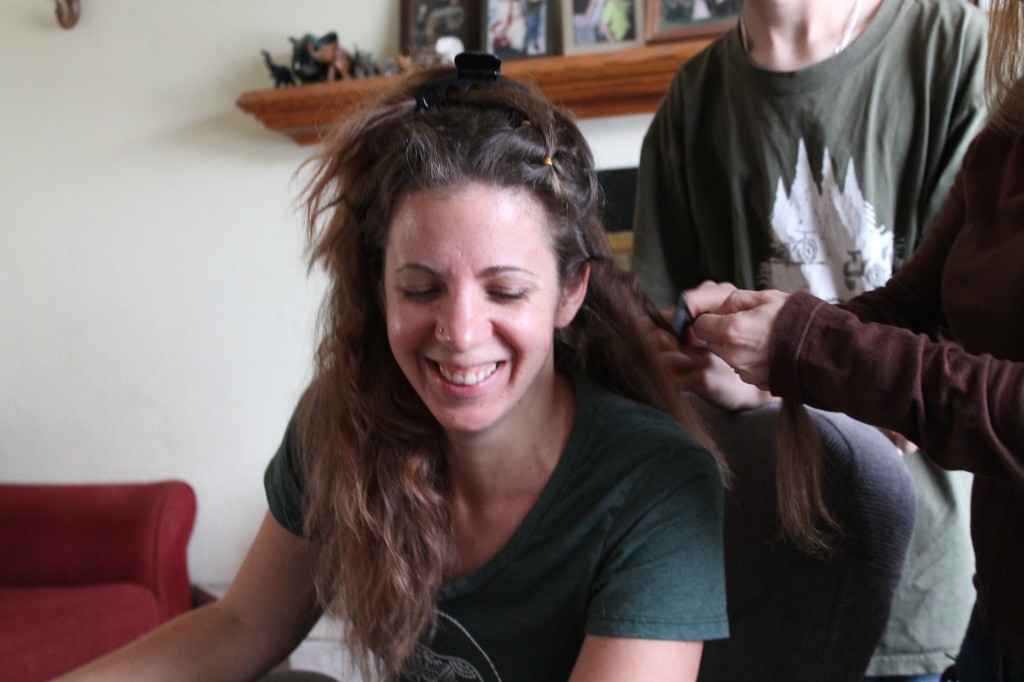 Unfortunately, we weren't quite as aggressive as we should have been with the backcombing.  Less than a week – and one washing – later, they'd all fallen out.  I was determined though (I am nothing if not determined), so over the course of the next few days, I re-did them, using a method known as the "twist and rip" method.  It simply means taking the section of hair in two pieces, giving it a twist, then pulling it apart again, separating it in a new place each time.  It. took. forever.  especially since I was doing it myself.  But it worked.
That was one month ago today, and I still have dreads!   There's a way to tuck the ends all in to make them all blunt and neat and tidy, but so far I like them free and wispy.  They're just babies, so most days they're a big fuzzy mess, especially when I wash them (yes, people with dreadlocks wash their hair.  I just use an organic, non-residue shampoo)  Some are tight and some are loose.  I have stray hairs and grey hairs everywhere.   They bend all crazy, and they have odd loops and strange turns and random bumps.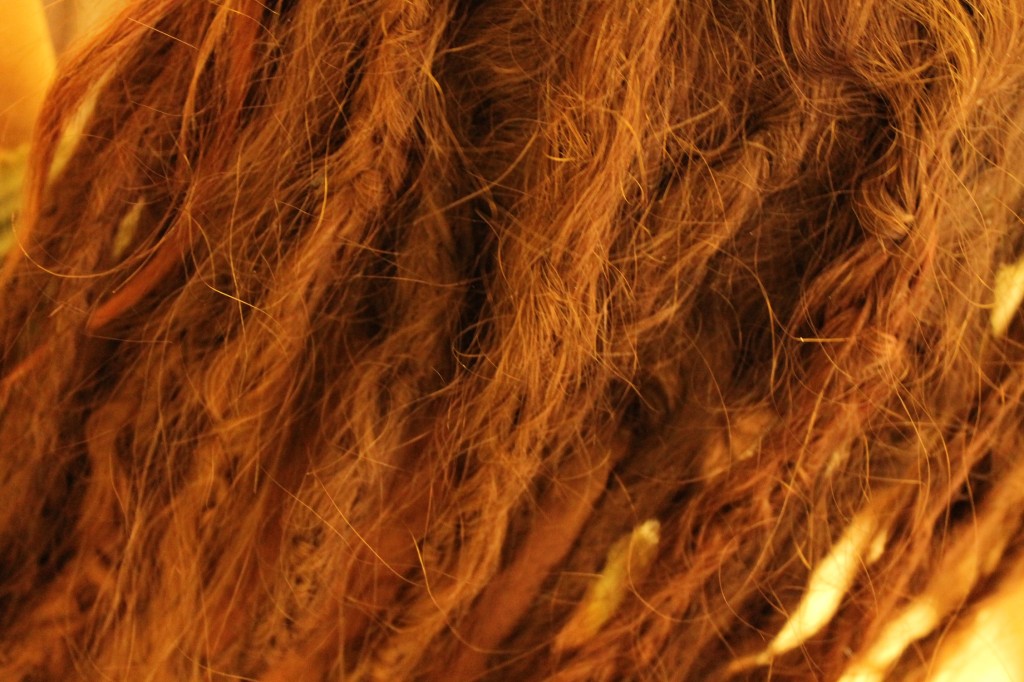 I can't wait to watch them grow and change and mature.
And in the meantime, I'm enjoying experimenting with them.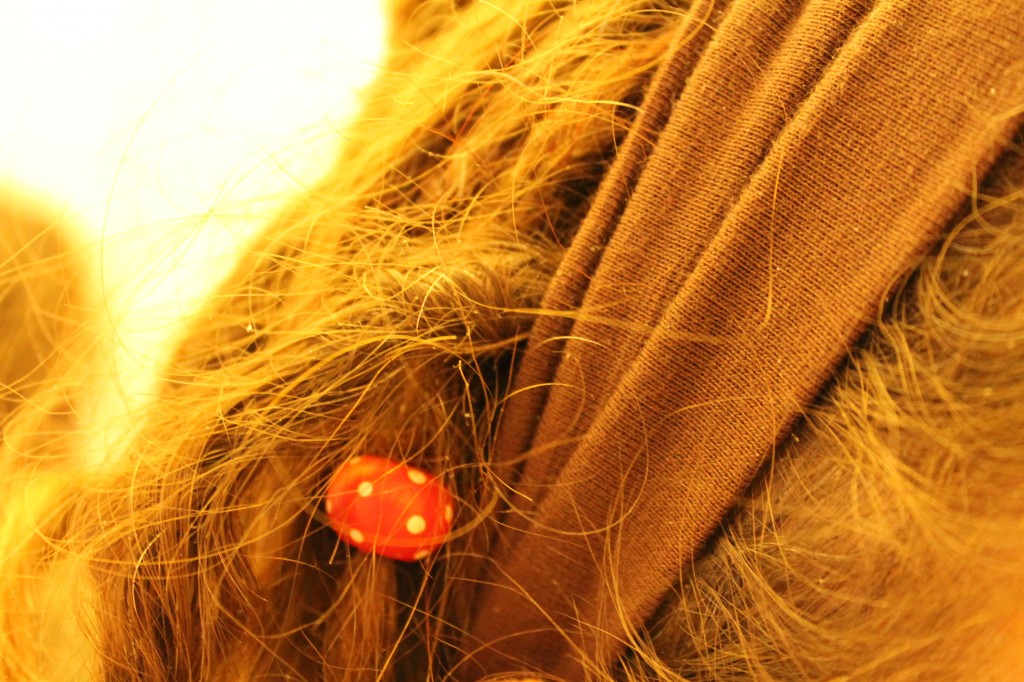 On the good days, when they're not looking too ridiculous, I like wearing them with just a headband or a bandana.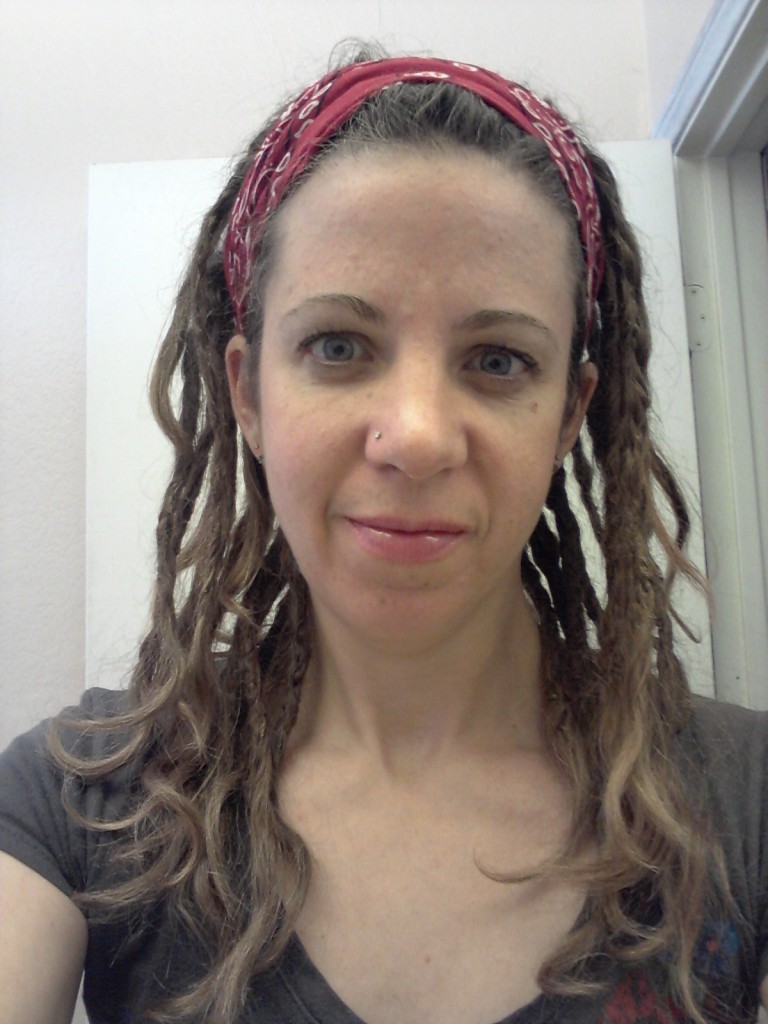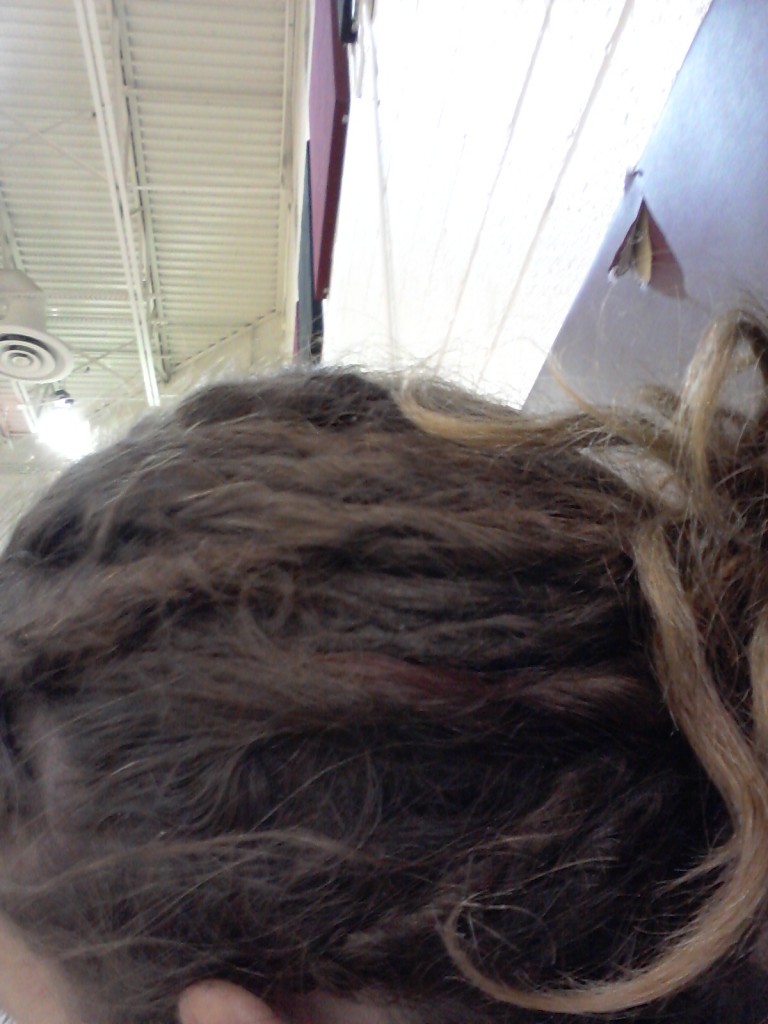 So why did I do it?
(From least to most important)
3.  I think they're cool.   Mature dreadlocks are just a striking, beautiful look to me, and it's one I've been in awe of for years.
2.  I'm lazy.  Or more accurately, I prefer to spend the least amount of time as possible on my physical appearance.  I've never been one to want to spend more than 30 seconds hours doing my hair and/or makeup, and the more kids I had, the more true that became.  I barely wear makeup.  I don't straighten my hair.  I can't remember the last time I used a hair dryer.   For the last several years, I've been a hair-in-a-ponytail 8 days out of 7 kind of girl.  So you can imagine how attractive and freeing I find the idea of a hairstyle that I can literally just wash and wear and be ready to step out the door.
1.  I wanted what I looked like on the outside to match what I felt like on the inside.  My whole life, I've felt "different."  I've never been one to fit in with the crowd (any crowd), instead identifying most strongly with those on the outside.  And rather than running from that truth, I want to embrace it.    I want to embrace anything that helps me to feel more comfortable in my own skin, that helps me feel even more free from constraints, more free to relate to others, more free to be me.  A couple of days ago in church, the lesson was in part about judging people by their hearts rather than by their physical appearance.  People – whether they openly admit it or not – often tend to do the latter, while God looks strictly at the heart.  At one point the pastor started listing things off:  "God looks at your heart… not your tattoos, or your piercings, or your mohawk, or your purple hair, or your 'tramp stamp'…"  Mike and I looked at each other and just laughed, because you can find all of the above in our household.   And while people may judge us for any or all of those things, God does not.  God wants us to be free.
So while in many ways it's just a small thing (it's only hair after all), in a symbolic way, it is a huge thing.  An outward reflection of an inner decision to reject being spoon-fed, to challenge the status quo, and to whole-heartedly embrace the search for truth and authenticity.
And over the next several months and years, as my dreads change and grow and mature…. so will I.