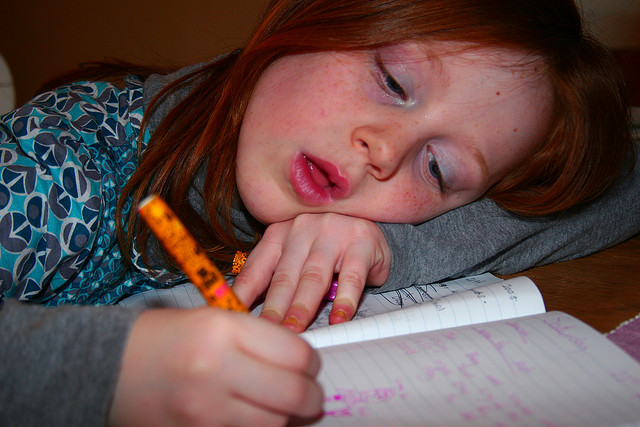 Today's guest post is by Amy Travis, who last wrote for my blog with A Recipe for Disaster
One evening a few weeks ago, I was witness to a father and son fighting over homework. It was a heated fight, happening on the bleachers while others were practicing basketball. At one point the father even stabbed at the son with the pencil they were fighting over. He was frustrated and so was his son.  The funny thing is that just several months before this scene I had a discussion with my doctor about homework. She was intrigued that I homeschooled and said she could never home school because it would just be a fight since homework is. a. fight. every. single. night!
During the interview for the last teaching job I had, I was asked, "What do you think about homework?" I was so excited when I felt brave enough to answer this question with complete honesty. I said, "I don't believe in homework and I wouldn't give it if it were up to me, but I understand the system requires it." The principal followed with, "Yes, we do require that the children have homework every single night." Truth be told I wasn't really honest with myself, because I took that job and gave that homework that I didn't believe in.
Now why don't I believe in that homework? The question should be why do so many believe in it?
I have heard it said that we are preparing them for college. Seriously? In Kindergarten? And what college are we preparing them for?  Because if I remember correctly, college classes weren't five days a week for 6 to 8 hours straight. I had 2 to 4 hours of classes a day which then gave me time to do my work outside of class on my own time. Do we realize that from Kindergarten thru Senior year we expect students to attend classes and do school work all day long and then several more hours of paperwork into the evening and night?? That isn't a college schedule! Sorry, I'm not buying that argument.
Just like my doctor, many parents will tell you that homework is a family fight most – if not all – evenings. Is this really how families should be spending their evenings? What about reserving evenings for throwing a ball, playing board games, swimming, eating dinner together, cooking or riding bikes? How about we let children decide what it is they want to learn, do, or create during the afternoon to evening hours?  I have to think that families would be better off with this type of lifestyle. Homework is like having a 40 hour/week job and then bringing extra work home. How many adults really want to do that? Yet children are expected to do it from the age of 5.
What happened to just being a kid?
I think families should be given back their family time. Homework is just busy work that parents have bought into thinking it is good for their children. Don't buy it!
The discussions that that father and son could have while they wait for the sister to finish basketball practice could be priceless.   Instead they are heated and strained, and so are the memories they are making.
Amy Travis is a former teacher, and an unschooling mom.  When she isn't writing blog posts for other people, she enjoys throwing parties, making cake balls, and forcing encouraging this introvert to get out and be social every once in awhile.
(photo by apdk)