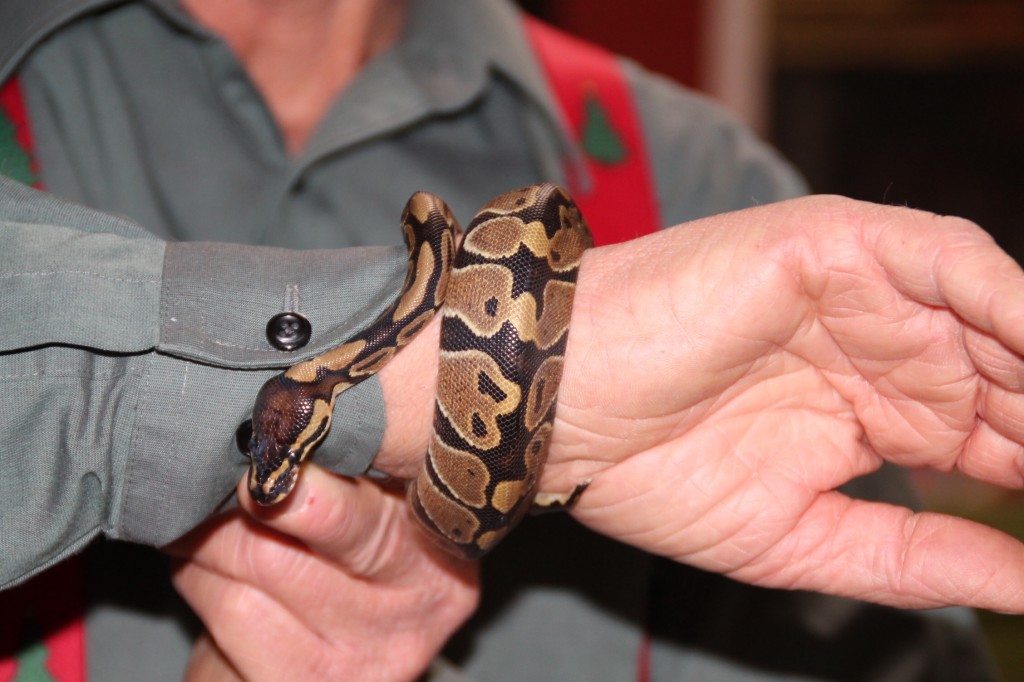 We have a ball python named Waldo. We named him Waldo for the late great Ralph Waldo Emerson (and also because people seemed to find the idea of being able to lament, "Where's Waldo??" in the event of an escape side-splittingly funny.) He's a wonderful pet. He's playful and friendly, and loves to slither around our laps on the couch. It's fun to watch him eat too… striking out to catch the – already dead – mouse we dangle from the tweezers, squeezing it until it's good and dead, and then ever so slowly and deliberately swallowing it whole.
One of the coolest things about snakes though is their ability to shed their skin. I'm fascinated by this. They outgrow their old skin, it turns white and brittle and loose, and here is this new skin: beautiful, bright, and vibrant, ready to take its place. Ideally, the old skin comes off in one long complete piece… so intact that you can clearly see where the eyes once resided. Sometimes though, they have a bad, or an incomplete shed. The skin comes off in stages and pieces. When that happens, the retained skin can cause problems for the snake, so it's important to have rough items like branches, bark, and rock in the cage so that the snake can rub against them to help snag and remove the remaining skin. That's exactly what happened the last time Waldo shed. His cage was filled with pieces of skin of varying length, and we wondered if we'd have to do something to help. But he worked it out: he used the rough bark of his hiding log, and eventually it was all gone. He was fresh and new and shiny again.
I am a snake.
For the past several years, I've been on a journey to slowly shed my outgrown skin in many many facets of my life, but particularly in my walk as a Christian. For so many (So. Many.) years I was bound by rules and regulations and legalities, and as I grew and changed and evolved… it just didn't fit anymore. I started to crave freedom and grace and freedom again, and I just wasn't finding them in my old skin.
I am thankful, honestly thankful, for the painful church experiences of my past that started the process, that tore off that first big piece, the one that gave me the glimpse of the beauty that lay beneath. Just the taste, just the possibility of the freedom that was to come gave me hope. And those final bits of skin? The stubborn ones? Well those eventually came off too, thanks to the people I've encountered along the way; the ones who served as those rough logs, sloughing off the old meaning of the word, "Christian", and replacing it with something new. Those people are the ones who helped me see who I am, who I'm not, and who I so desperately want to be.
If a Christian is someone who uses a Bible not as a source of strength or knowledge or information, but as a weapon, something from which to cherry-pick scriptures to clobber others, to prove a point, and to win an argument…
I am not a Christian.
If a Christian is someone who thinks he can say with any authority who is and who is not going to go to heaven; who arrogantly thinks he knows the status of someone else's walk with God, let alone his salvation…
I am not a Christian.
If a Christian is someone who disparages others just because they happen to be a Democrat or a liberal or someone who voted "the wrong way" in the last election…
I am not a Christian.
If a Christian is someone who doesn't let another Christian into their group or club or school because they're the wrong kind of Christian, or because their beliefs or interpretations of God and the Bible may differ from their own…
I am not a Christian.
If a Christian is someone who stands as judge and jury of someone else's lifestyle; someone who finds it appropriate to go onto someone else's Facebook page and just tell her, point-blank: "You are not a true Christian if you XYZ"…
I am not a Christian.
And riiiiiiiiip, there it goes, the very last little thready bits of skin. Except it doesn't hurt. It feels good. It feels freeing.
That skin didn't fit. And it hadn't fit for so long.
I have no anger towards those people either. No bitterness. Only gratitude. And I'll fully admit that that wasn't always the case. I have one faithful friend who can attest to the number of, "Have I mentioned lately how much Christians annoy me?" texts I've sent her over the past year. It's only now that I can see them for what they were… just people on their own journey, people who may or may not have skin to shed of their own. How they're living out their own personal walk is none of my business, and likewise:
No one else but me gets to decide my path for ME.
I'm free.
Does that freedom then mean that I just live my life all willy-nilly, devil-may-care, any old way, and if God doesn't like it that's just too damn bad? Of course not. On the contrary, as someone who does truly love God, I am always learning, always growing, always examining, always questioning. Christianity is actually a lot like yoga (which, ironically, is another area that's garnered me the, "You can't be a true Christian if you do that!" comments) in that you never know everything there is to know. You're never finished learning. You're never finished getting better. By all means, even though I'm a teacher I'm still relatively new to yoga. And even though I've been a Christian my whole life, I'm still very new to the idea of grace. Of real faith. Of freedom. For the first time in, well… ever… I can't wait to learn more.
So am I a Christian? The only words that come are: "It just doesn't matter." I am me. I love God. And I'm okay with that answer.
I'm pretty sure God's okay with it too.