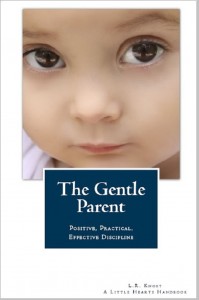 I am so excited to bring your attention to another must-read parenting book by L.R. Knost.  The third in her Little Hearts Handbook series (the first two were Two Thousand Kisses a Day, and Whispers Through Time), The Gentle Parent gets right to the heart of parenting and disciplining gently:  with cooperation, communication, and connection.    While I wholeheartedly recommend that you read – and implement – all three, you needn't have read the first two in order to read this one!
As she did with her first two books, Knost presents her information in a clear, easy-to-read conversational style, in short little chapters that are perfect for busy parents.  Using both a wealth of facts and her own tried and true personal experience, she takes the reader's hand and guides her through all those tricky moments that trip up even the best of parents.  Always keeping your relationship with your child as the utmost of importance, she shows you why punishment is not the answer, and how you can gently and kindly deal with such issues as:
~ A toddler who is hitting, kicking, and biting
~ Parenting in public
~ Strong-willed children
~ Lying
~ What it really means when a child is acting out
~ Teens who are hurting
And so much more!  This little book is FULL of information that you can begin implementing in your household right now…. information that will help you have a happier, closer, more peaceful relationship with your child.
It is simply a must read.   And you can pick up the Kindle edition for less than the cost of a Starbucks coffee drink.  And that's not all.
Today Only!  You can get the accompanying Gentle Parenting Workshop on Kindle for FREE.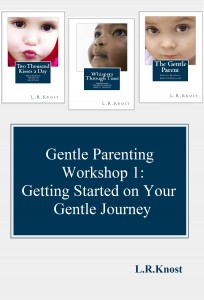 From it's Amazon description:
The Gentle Parenting Workshops from award-winning author, L.R.Knost are companions to her best-selling parenting books, 'Two Thousand Kisses a Day,' 'Whispers Through Time,' and the newest release, 'The Gentle Parent.' The first workshop in the series, 'Gentle Parenting Workshop 1: Getting Started on Your Gentle Journey,' will help you set your gentle parenting goals, identify specific parenting problems, and target practical solutions to help you along on your journey to gentle parenting.
There are few parenting authors that I can recommend with such wholehearted and unwavering faith, support, and trust.  L.R. Knost is one of them.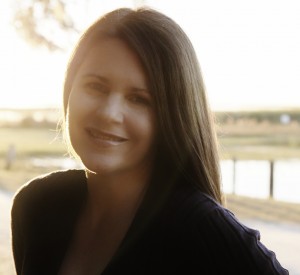 Best-selling parenting and children's book author and mother of six, L.R.Knost, is an independent child development researcher and founder and director of the advocacy and consulting group, Little Hearts/Gentle Parenting Resources. Two Thousand Kisses a Day: Gentle Parenting Through the Ages and Stages and Whispers Through Time: Communication Through the Ages and Stages of Childhood are the first in her Little Hearts Handbooks series of parenting guides. The newest book in the series, The Gentle Parent: Positive, Practical, Effective Discipline was just released on November 1, 2013. Other works by this award-winning author include the children's picture books Petey's Listening Ears, and the soon-to-be-released Grumpykins series for ages 2 to 6, which are humorous and engaging tools for parents, teachers, and caregivers to use in implementing gentle parenting techniques in their homes and schools.