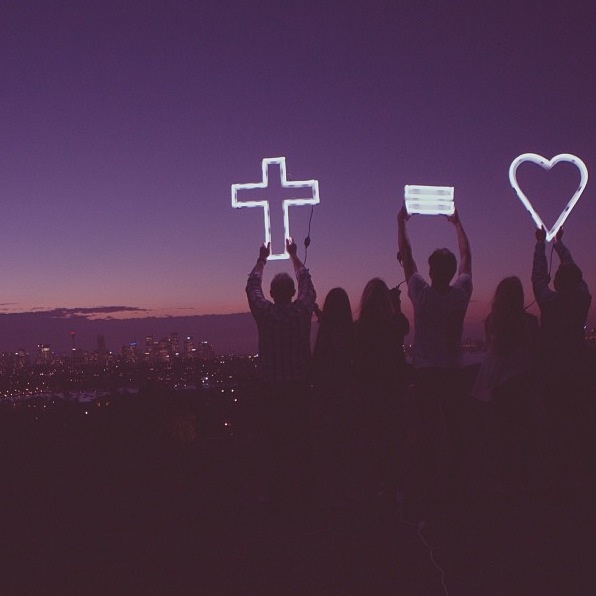 To my brothers and sisters in Christ,
I write this with a humble, heavy, and somewhat broken heart.
As you know, the Supreme Court ruling that was announced this Friday made same-sex marriage a right nationwide. Now, this letter really isn't about legalities, or whether or not the government has any business being involved in marriages in the first place.  That's clearly another conversation altogether.
But I can't keep silent about some of what I'm seeing come out of the Christian community right now, at a time when individuals are simply trying to celebrate that they are finally able to legally marry the people that they love.
Thankfully, I'm not personally seeing any Westboro Baptist-style hatred (I seem to have done a pretty efficient job of culling my Facebook friends list since the Duggar  scandal broke).  What I'm seeing is just as upsetting though, if not even more so, because it's really the same message of judgment and intolerance;  It's just couched in "Christian-speak."
First, I need you to understand that this is not about disagreement.  Disagreements are a normal and healthy part of life, of society, and of relationships.  I disagree very strongly about some pretty big issues with some of my dearest loved ones.  This is not about disagreement.  I keep seeing that syrupy little Rick Warren quote passed around that says,  "Our culture has accepted two huge lies. The first is that if you disagree with someone's lifestyle, you must fear or hate them. The second is that to love someone means you agree with everything they believe or do. Both are nonsense. You don't have to compromise convictions to be compassionate."  It frustrates me every time.  I've never heard anyone, ever,  insinuate that to love someone means you agree with everything they believe or do.  So to say it's a "huge lie" that's been accepted is pretty much just ridiculous.  And as for the first part: Absolutely, yes. Simply disagreeing with someone does not mean you fear or hate them.  That's correct.  But can your resulting words and actions, even if you intend them to be "loving", still convey fear or hatred?  YES! Can they still contribute to feelings of persecution, of personal affront, of judgement?  YES!  Can they still push a person (or many persons) further AWAY from God, and Christians, and the church (which I think is probably the complete opposite of your intent)?  YES!
I don't believe that homosexuality in and of itself is a sin.  I do believe that consenting adults, of any gender or sexual orientation, should be able to marry their loved one, no matter what that may look like.  I absolutely respect your right to disagree with me – I truly do – just as I'd hope you'd respect mine.  But when you make sweeping comments such as, "I believe the Bible, so homosexuality is wrong,"  or, "Well I'm a Christian first, so homosexuality is wrong," then we have a problem.   Please do not mistake your beliefs as being synonymous with "Christianity" as a whole or with "The Bible" as a whole.  Please do not speak for me.  Please do not speak for the thousands of other Christians who have different interpretations, and different philosophies than your own. Please do not perpetuate the idea that because a person happens to have a relationship with God, that he or she needs to live out that relationship in the same way in order to be "right."
There are LOTS of different ways to live out a Christian faith, and from where I'm standing, the only one we need to consistently meet on is this:  "Thou shalt love the Lord thy God with all thy heart, and with all thy soul, and with all thy mind. This is the first and great commandment. And the second is like unto it, Thou shalt love thy neighbor as thyself. On these two commandments hang all the law and the prophets". —Matthew 22:35-40.
Which brings me to the point of this letter.  And believe me, I ask this with complete sincerity and genuine sadness and confusion:
Do you honestly think it is loving to continually browbeat this one segment of society by telling them over and over and over how sinful you think they are?  Yes, even if you preface it with, "I still love you!  I still pray for you!  I don't judge you!"  Do you really think that that love and those prayers are going to come across when you're reminding them, AGAIN, that you think that by virtue of who they happen to love, that they are sinning?
Because guess what.  They already know you think they're sinning.  We already know you think they're sinning. So until or unless you are giving continual updates on ALL the things you think are sinful, it's just not fair.  And I'm sorry, but it isn't loving either.  It's not.  Why them?  Why this one issue?
A real-life, actual threat to marriage in this country is infidelity and divorce.  But no one ever talks about that, unless it's to cover it with words of, "Oh, well, you know, we all make mistakes… we shouldn't judge another person… everyone sins."
You shouldn't judge another person because they sin differently than you;  this much is true. Well you know what?  You shouldn't judge a person because they love differently than you either.
I'm so tired.  I'm so tired of saying the same thing over and over again.  I'm so tired of this one segment of society getting so much negative attention from Christians, at the exclusion of anything else.  I'm so tired of the back-handed, "I love you and pray for you and don't judge you, but I need to keep reminding you that I disagree with your "lifestyle"" rhetoric of disgust.
Please stop.
Please, please stop.  They know you disagree already.  They really do.  They will always know. It has been well-established.  
Isn't it about time that we reached out to the LGBT community, a community by the way whose teens are three times more likely to commit suicide than their straight peers, and just offer love?  Real, actual love, with no disclaimers?
Let's bring a little more "loving thy neighbor" back to Christianity.  Thy straight neighbor, thy gay neighbor, thy transgender neighbor, thy black neighbor, thy white neighbor, thy Democrat neighbor, thy Republican neighbor, thy Atheist neighbor, thy Jewish neighbor, thy Muslim neighbor….
and yes, thy Christian neighbor like you, and me, who deep down inside really do want to love, and are still learning how to get it right.
** Comments have now been closed.  Thank you to everyone who provided respectful discourse.**