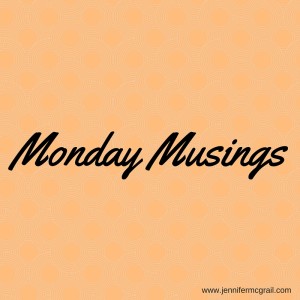 I have trouble with Mondays.
You'd think that as a stay-at-home parent, Mondays wouldn't be as difficult.  I mean, it's not like I have to get up and get out the door for another work week.  But they're still…. hard.  Having to get back to the real world after having had a partner home all weekend, having to get back to adulting after what was (ideally anyway) a weekend of fun, having to get the housework back under control, and having to finally deal with all the emails and appointments and grownup things I've put off as long as I can.  The to-do list looms large, and the energy with which to tackle it is low.
So, I decided to try something new, and purge all the random Monday thoughts that are distracting me into a nice, tidy little blog post.  (And maybe some of you would like to Monday Muse with me??)
Here then are five random things that are cluttering my brain this Monday morning*, and keeping me from Doing All The Things.
1.  I'm even more sleep-deprived than normal, because I was up multiple times with the dog with diarrhea.  (To be clear, the dog has diarrhea, not me)  It might have been five times, but it could have been seven or eight.  I sort of stopped counting after the third or fourth time.
2.  I almost pulled down my Facebook page four separate times this weekend.  I'm working hard to not be so quick with my trigger finger, and instead take a step back for some perspective before I react.  Because ironically, this is a season that I was all set to spend more time on my blog, not less.  And taking out the whole Facebook piece would not have been very helpful in that regard.
3.  I've been on an elimination diet for a month now, both as a last ditch effort before I see another doctor who tells me, "I don't know what the heck is wrong with you, but I'd be happy to refer you to a specialist", and in response to all the friends and family who keep telling me that I just need to eat better.  For over four weeks now, I've had no gluten, no dairy, no sugar, no soy, no nuts, no citrus, no caffeine, no alcohol, no red meat…  Basically, I've purposely been avoiding some of my very favorite things.  The impact it's had on my symptoms?  Zero. No change whatsoever.  Does that sound grumpy?  It's because I'm grumpy.  I blame it on the lack of caffeine.  And frustration.  But mostly the caffeine.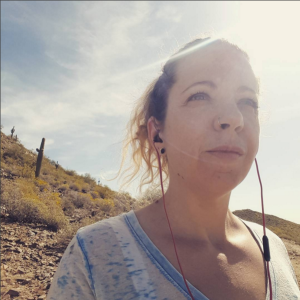 4.  I've been walking.  I can't do anything more strenuous than walking at the moment, and actually, there are for sure days where even walking is too much. But if I can do it, I do it.  I like walking, especially if I can do it in the desert.  A half an hour alone in the desert with my headphones, and I'm like a new person.  I like to walk with Mike too, but since walking's my therapy, I tend to vent slash complain slash verbally spew on him when we're walking so it might not be as fun for him as it is for me.
5.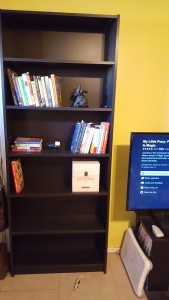 I had a problem.  I was running out of space for my books.  I cull them as often as I can, but you know, some books you just NEED to keep.  I told Mike my problem, and last weekend we went to Ikea for a new bookshelf.  I obviously still have a lot of books to transfer over, but I am taking my time, dusting everything off, getting it all organized.  The project has made me sublimely happy.
How nice if all problems were so easy to solve!
*  I started this post at about 7:00 in the morning, and it's now after 6:00 in the evening.  Because… Mondays.  But tomorrow is Tuesday and I'm home all day.
I have big plans to play Minecraft with my girl, and eventually I'll start looking at that to-do list.
After a good night's sleep with hopefully a whole lot less diarrhea.