I LOVE a project.  Few things make me happier in life than creating something with my hands.  I love that moment of inspiration when I think of, or read about, an interesting idea.  I love gathering up my supplies.  Love the trial and error.  Love the feeling of pride in a finished product.
Lately I've been able to get in touch with that side of myself again.  For a long time, I'd deliberately put it on a back burner. Now that the kids are a bit older (at seven, Tegan of course still wants and needs me to play with her, but she also wants and needs her time away to Skype with Friends or play Minecraft with her brothers) I'm finding myself with a little bit of new time. And it's lovely.
This past weekend's quick little project was homemade face wash, and I love it so much that I had to share.  I'd been looking for something new – I can only use the same thing for so long before my skin freaks out on me – and I didn't feel like researching and shopping and spending the money on something only to find out that I didn't like it.  So… I Googled.   I was looking for an oil-based recipe, because I've heard great things about them, and there were a LOT to choose from.  I ultimately ended up going with this one because it 1) got great reviews 2) was super simple, and 3) contained ingredients I already had around the house.  It took about 5 minutes to make.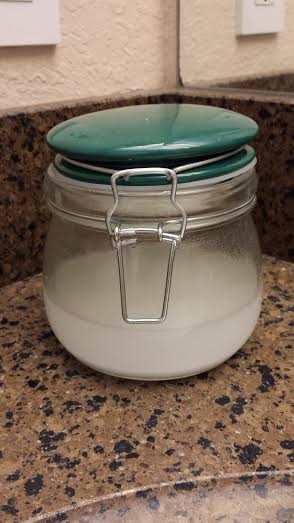 Homemade Face Wash (recipe by Dr Axe)
1 cup coconut oil
1 TB baking soda
5 drops lavender essential oil
5 drops frankincense essential oil
5 drops lemon essential oil
Melt the coconut oil in a pan over low heat.  Let it cool for a minute or two, and stir in the rest of the ingredients. Store it in a glass container.  The baking soda settles at the bottom, so you do need to give it a stir before you use it.  I started keeping a spoon for that purpose in my bathroom vanity.  :)  A little bit goes a long, so you can just put some on your fingertips, massage it all over your face, and remove with a warm washcloth.
I LOVE this face wash!  I've been using it for five nights now (usually ample time for me to know if my skin is going to get angry at me for trying something new, and/or even break out in a rash of some variety), and it is just wonderful.  No skin freak-outs.  It feels clean and smooth and super soft and moisturized.  Love it.  The original recipe said that you may need to adjust your ingredients a bit to make it right for your skin…. but for me it was perfect as written.
Try it, you'll love it.