A few weeks ago, there was a picture going around Facebook, with a caption that read,
 "F**k Society. This (with an arrow pointing to Marilyn Monroe) is more attractive than this (with an arrow pointing to an underweight girl in a bikini)"
This was this picture of Marilyn Monroe: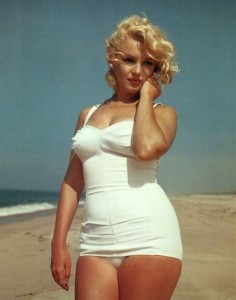 I was going to include a picture for the skinny girl too, but I ultimately decided against it.  We all know what she looked like.  She was runway-model slim.  You could see her ribs, and instead of curves she was all lines and angles and elbows.
I understand that the message is supposed to be a positive one.  It's supposed to encourage us to accept our bodies, not to bow to societal pressures to chase some mythical or unhealthy ideal.  It's supposed to remind us to appreciate the beauty of what is by some considered a "larger" woman.
And absolutely, Marilyn Monroe was beautiful.  Beautiful face, beautiful figure, beautiful smile.   That's not in question.
But the element of comparison leaves me a little cold, as did the many comments of agreement, and those who took it a step further by calling the thin girl "disgusting," "hideous," and "ugly."  Suddenly, a message of acceptance and love was turned on its head … and instead of embracing beauty in all shapes and sizes (which I'd truly like to believe was the original intent), people were banding together to bash those who are smaller.  And call me crazy, but isn't it the height of hypocrisy to champion for the acceptance of one body type, while simultaneously lambasting another?
Now, I didn't know the other girl in the picture any more than I knew Marilyn Monroe, but I can tell you this:
She could have been that thin simply because of genetics, in which case holding her up to Marilyn Monroe and saying she was the lesser of the two is just mean.  Or she could have been precluded from gaining weight due to some kind of illness, whether physical or otherwise, which would make the comparison not just mean but heartless too.  She could be a victim of her own self-hatred.  She could be breaking under the pressure that comes from so many people making judgments on outward appearances,  and she could be disappearing under an illusion of self-control.
Either way, I'm sad for that girl.  I'm sad about the state of our country's body image in general.  And I'm sad that as a society our solution to the problem is just as bad as the problem itself.  Instead of declaring Marilyn attractive, and the thin girl unattractive, can we accept the inherent beauty in both?  Can we just aspire to be healthy?
Right now, my daughter is only three.  She still (rightly so) thinks her body is perfect and beautiful exactly the way it is.  I pray that that continues.
I hope that when she looks at herself and others, she doesn't see skinny or large, curvy or athletic.  I hope that she never compares… not to each other, and not to herself.  I hope that when she looks in a mirror, she feels acceptance.  I hope that she still realizes that she was purposely and deliberately and uniquely created, and that she isn't meant to look like Marilyn Monroe or the runway model or anyone but HER.
I hope that she is kind to herself, and kind to her body.  I hope that she eats good foods, and finds an exercise that she loves and does regularly….  not to look a certain way, or to fit into a certain size,  but to stay healthy and strong.
I hope that she respects and accepts others, no matter their size, shape, or age.   I hope that she loves them even when they can't love themselves.
I hope that she embraces differences.
I hope that she realizes that our outer appearances are just that:  Just a shell.  And that beneath the curvy hips or the jutting hip bones, we're all just … people.  And not all that different after all.