"Just wait till your kids are teens."

"It's different with teens, you'll see."

"You know what TEENS are like!"
The above are just a few of the (paraphrased) comments I've gotten from readers who don't realize that I already have teenagers.  They'll be negative and condescending and almost … smug … when they say things like, "Maybe gentle parenting works now, but just wait until you have teenagers.  You'll be changing your tune then."  Or, "Ha ha, I can't wait until your kids are teenagers and you get your wakeup call."  Or, "I used to feel the same way as you, and then I had teens."
Now, setting aside the fact that essentially rooting for me to fail as a parent is a lousy thing to do, comments like this just further perpetuate the unfair negative stereotype that far too many people hold about teens.  Teens are rebellious, teens are sullen, teens are entitled, teens hate their parents.  Teens are rude, arrogant, eye-rolling, miscreants.   Did I get them all?  Society's villification of teens is real, and it's not okay.
If you expect teens (or really, anyone) to behave in a negative way, what kind of behavior do you suppose you'll see?  The negative!
The opposite is true as well.  When you expect kindness… when you give kindness… you get kindness in return.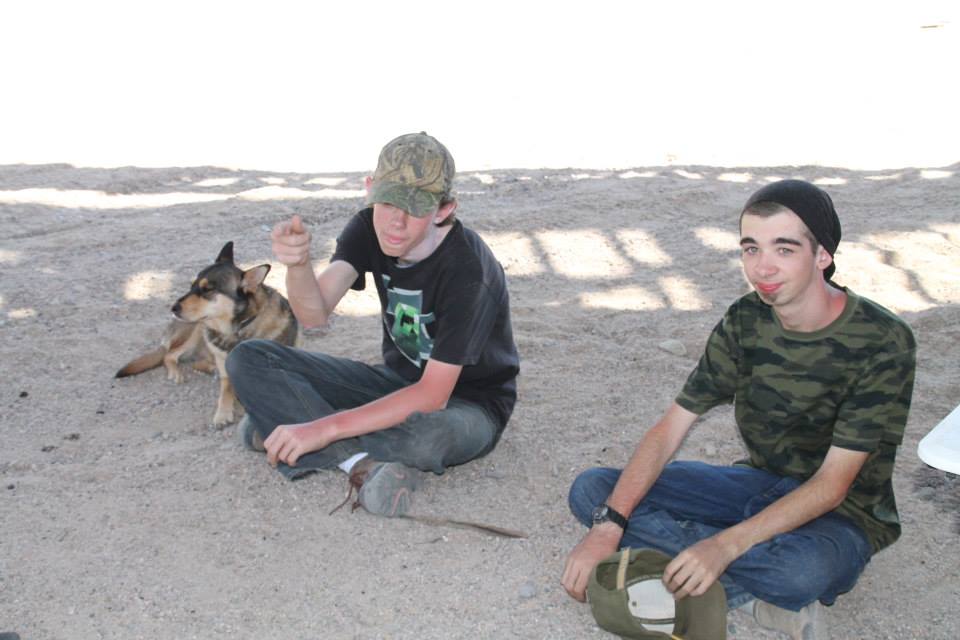 At the time of this writing, Spencer is 16; and Paxton, though he won't technically turn 13 until August, has – due to both his maturity and the fact that he has physically towered over me for almost a year now – felt like an honorary teen for at least the past 6 months.  I am enjoying them now as much as I ever have, if not moreso.  And it's not that I don't enjoy the younger ages.  I do.  It's just that there's something really really cool about getting to relate to them on a whole new level, getting more and more glimpses into the men that they'll become, and getting to watch as they grow into these cool, funny, thoughtful young adults.
It makes me sad to see such broad misconceptions about teens out there, and to see so many people accept it as a given that their parent/child relationship is going to suffer once puberty hits.  It doesn't have to be that way.  And if you keep the lines of communication open.. if you talk with your kids.. if you LISTEN to your kids.. if you respect your kids.. if you give your kids space.. if you let your kids make choices… there is no reason to think or to assume that the teen years can't be just as happy and fun and connected as the years leading up to it.
Are there bumps along the way?  Are there new issues to work through, new growth to be had as a parent?  Are there challenges?  Of course!  It's a crazy time, being a teenager.  There are big questions, and big feelings, and big ideas.  There are raging hormones, and body changes, and new relationships… all to be dealt with with one foot still in childhood, and one foot reaching, reaching out into the great vastness of "adulthood."    I remember being a teenager well, and it was not easy.  Nothing about it was easy.   Wouldn't it follow then that as parents we should be more kind and more patient and more compassionate during those years of transition instead of less?  Instead of subscribing to this idea that teens are somehow "less than"?  Instead of sighing and huffing and joining in on the common refrain of complaining about "these teens today?"
Shouldn't we be embracing them?
As I sit here and look at those comments I opened with, I can't help but think of the good that could come from reading them with positive intent instead of the way they were said to me:
"Just wait till your kids are teens."  Yes, just wait.  You will love it!  Teens are fun and interesting and full of great ideas, great insights, and great conversation.

"It's different with teens, you'll see."  Yes, very different.  They use the bathroom and bathe all by themselves.  They make their own sandwiches.   They're able to have big discussions about things like politics and religion and what happened on last week's Dexter.   They astound you with their maturity one minute, and crack you up with their child-like antics the next.


"You know what TEENS are like!" Yes, yes I do.  Teens rock.
Anybody who's fortunate enough to be able to parent or befriend a teenager is a lucky person indeed.