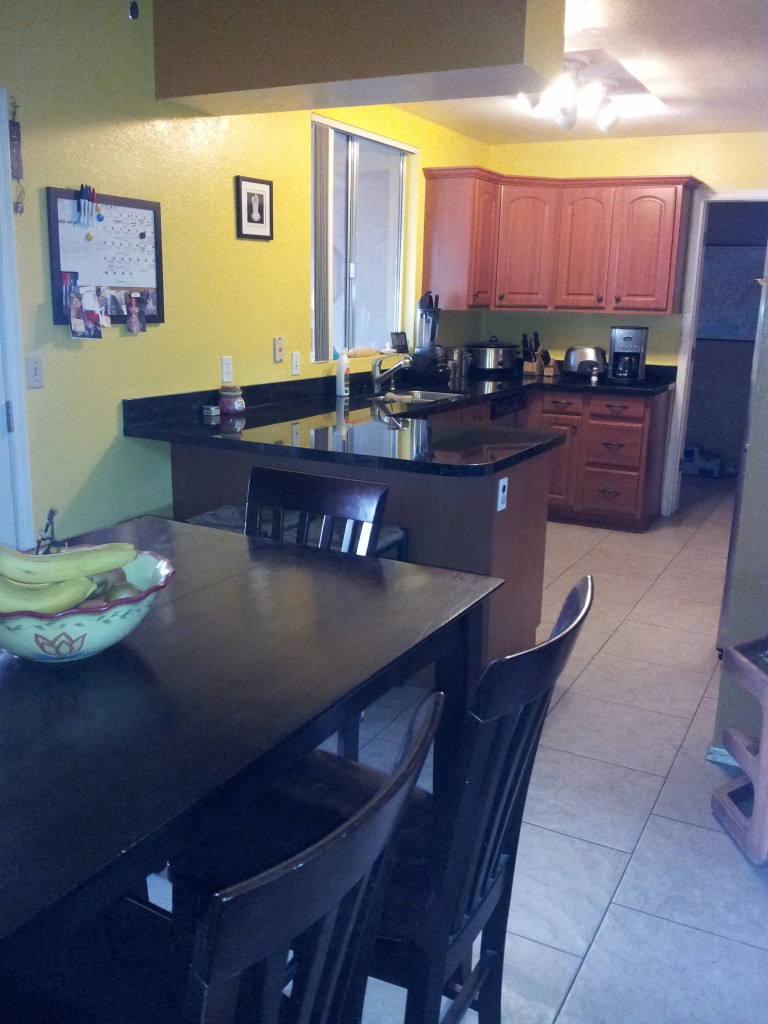 It's a series of questions I hear a lot.  A lot a lot:
Do you really not require them to do chores?  Do they still help around the house?  How do you get them to help?
Yes, I really don't require them to do any particular chores.  Yes, they all still help around the house.  As for the last question:  It's the wrong question.  It's not about getting someone else to do what you want them to do.  If something isn't working, it's about changing what you can change about you, and letting the rest fall as it falls.  But I'll get back to that later.
Not too long ago, I had a bit of a breakdown (and a resulting breakthrough) when it came to housekeeping.  I've admitted this here on my blog more times than I can count, but I'm not the most naturally tidy person out there.  I pretty much make a mess everywhere I go.  For most of my adult life, I've tried to make peace with that. I thought the answer was to embrace it.   Messes are good!  Messes are happy!  Life is a mess!  And while I still agree with that when it comes to many, many things, I finally faced the fact that I personally function so much better when my home –  my haven – is running smoothly.  When things are organized.  When my desk is tidy.   When my counter is shiny.
The problem was, none of that was happening.  Nothing was running smoothly.  Nothing was organized.  Nothing was tidy.  Nothing was shiny.  My own house was a source of stress, and a big one at that.
I eventually realized that 1)  This was MY issue.  (Well, mine and my husband's, but he already works like 17 jillion hours a week outside the house, and contrary to popular belief can't always put out my fires too) 2) Making desperate, impassioned, embarrassing speeches begging people to help me didn't work… and made us all grumpy in the process, and 3) The only person I had the ability – and the right – to control was me.
So I decided to do something.
Borrowing and adapting ideas from both Flylady and Motivated Moms, I started digging my way out.  ("Borrowing" and "adapting" instead of flat-out following because I took what worked for me, and chucked the rest, with no apologies.  Put on shoes in my own house??  What kind of crazy crap is that?)  I started with baby steps, and am gradually working my way to household sanity.  My own personal 12-step program for slobs.  I didn't do it to prove anything, didn't do it for anyone else, didn't do it for any other reason than because I wanted to.  As with any other new habit, the first few weeks were painful difficult, but now it's all second nature, AND my house doesn't stress me out anymore.
This is the daily plan that works for me (your mileage may vary):
Tegan sleeps in our bed about half the time.  If she's in her bed, the first thing I do when I get up is make the bed.  (Otherwise, I just do it later) For most of our marriage, the bed's been unmade.  I sort of never saw the point, if you're just going to unmake to get into it again.  But lo and behold, it's really really nice to come into a pretty and freshly made bed every night.  If your home is your haven, your bedroom should be your haven's haven, right?  Plus, it gets me in the "tidy-up" mood I need for the rest of the morning.  So I take the time to do it.  It takes approximately 8 seconds and makes a huge difference.
Next I go into both bathrooms, and grab the toilet brush.  Quick swish of the toilet, and then a quick wipe down of the sink/counter/mirror with a damp cloth.  Two minutes.
On the way to the kitchen, I stop at the closet to grab a fresh dish towel.  It's nice to have a fresh towel every day… and plus there's that whole issue of kitchens being germier than bathrooms.  Which is gross.  So a new towel it is.
I start the pot of coffee, because I must.  While it's brewing, I:
Empty the dishwasher
Run a broom just over the kitchen/dining area
Wipe down the counters, stove, and sink
Put any stray cups, etc, from the night before in the dishwasher.
If there's laundry to do, I'll throw that in then too.  (I'll fold it later with a cup of iced coffee and Netflix to keep me company)
BAM.  Ten minutes from the time my feet hit the floor and I'm ready to sit and enjoy my coffee and answer my emails.
The only other thing I do housework-wise consistently every day is spend 15 minutes (yes, I set a timer) on cleaning … something …  whether it's putting toys away, tidying up the living room, or working on decluttering.   I'm convinced that getting rid of the superfluous "stuff" in the house is one of the biggest natural highs in the world.  Right now my big project is the room that was originally built to be a formal dining room that has since become a computer room slash play room slash dumping ground slash all-around thorn in my side.  It's not where I'd like it yet, but it's looking a lot better, 15 minutes at a time.   15 minutes is nothing.  I could easily spend four times that much watching TV, or working on a blog post, or ::cough:: checking Facebook.
One day a week, I do the bigger jobs:
Properly clean the bathrooms
Sweep the whole house
Mop
Vacuum
Dust
Clean end tables, etc
Change everyone's sheets
Take out the trash
The whole thing takes about an hour, less if the kids help me.  And speaking of the kids:  Last night after dinner (because he likes to give me real-life examples for my blog posts without even realizing it)  Mike asked Everett – 9 at the time of this writing – if he'd take out the recycling bins.  Spencer does it more often than not, but his shoulder is still not quite up to it.  So he asked Everett.  And that's how it works… no more complicated nor more simple than just … asking.  As is the case I'd say, oh, 75% of the time, Everett said "Sure", brought his plate up to the sink, and went to get the recyclables.
20% of the time, the answer is "Sure…" followed by a, "when my show is over" or "after I finish this level", or "in a little bit."  And 5% of the time, they decline.  Because they're too tired, or busy, or just plain choose to opt out.
In the past, that 5% caused a huge problem.  But not because of the kids.  Because of me.
The kids don't exist to be at my beck and call.  We're a family… we're all equals here.  We're on the same team, the kids and me.  I knew all of that intellectually, but until I'd fixed my own messed-up relationship with housework, my words might have been asking, "Would you please help me with xyz?" but everything else about me was screaming, "Kids!  Help me with this unpleasant task that I don't even want to do myself!  I'm going to frame it like it's a question, but I'm going to get all grumbly if you say no.  Stupid housework.  Stupid messy house.  If I could just get some HELP every once in awhile, instead of doing it all myself.  Grumble grumble grumble…."   I mean seriously, would you want to help that person?   Once I'd adjusted my own frame of reference, it changed everything, and that 5% became a non-issue.  Now when I ask, I'm honestly asking, and if the answer is "Not right now" or "No thanks" or "Can someone else do it?", I'm cool with that.  Because things are running much more smoothly overall, it's not a big deal for me to do most of the cleaning projects myself… and it's also not a big deal for others to pitch in:  sometimes when they're asked, and sometimes just because they want to help.   And it should go without saying, but it's also a whole lot more pleasant to deal with housework in general when it's with someone who's calm and cheerful about it instead of, well, stressed out and scary.
Most days, I'm honestly happy to do housework now.  It feels good to create and keep a nice space and a happy unschooling "nest" for my family.  It's easier to find things and work on our various projects, and I'm no longer stressed out by all the inevitable – and often necessary – messes.  Messes are easy to clean when they're made on a fresh canvas.  It's the messes that fall on top of messes on top of messes that are overwhelming.  Am I always cheerful and happy about cleaning?  Well, no.  This is the real world.  And some days the best I can do is recognize that it's a necessary part of life, and something I can still choose to do without complaining.  And on "those" days?  The rare days when I'd rather stick a fork in my eye than pick up a broom or handle a dirty dish or run one more load of laundry?   I give myself the day off, and I don't feel guilty about it.
Do I think my kids are going to be stellar housekeepers when they're out on their own?  I have no idea.  I'm not nearly as concerned with how they "turn out" as I am with their living in a happy, cohesive, peaceful household right now.  If I had to guess, I'd say that it's largely just a matter of personality, and how they're individually hard-wired.  Some of my kids have always loved to keep everything around them neat and tidy… and some have always been, well, more like I was as a kid.  And neither is right or wrong until or unless THEY decide it's right or wrong in their own life.
I do know that they're finally able to see and experience a mom who is happy to do it, to do her best to take pride in, and take care of this place we call home … humble though it may be.  And on a deeper level, a mom who recognized a problem within herself and is taking steps to fix it.
Surely that's got to count for something.