I realized something sort of huge tonight.
All this time, I thought that the thing I liked least about blogging was the negative comments.  If you asked me, even this morning, I wouldn't have hesitated.  "The negative comments! The people who call me names, the people who call me judgmental, the people who make unfair assumptions!" And don't get me wrong, I don't like that part.  It's not enjoyable.
But it's not the worst part.
Tonight I was told that I "justified judgement, arrogance, and condemnation." Now that's certainly not the worst thing anyone's ever said about me (heck, it probably wouldn't even make it into the top ten), but it still stung.  Because while I can intellectually realize that what strangers say about me doesn't matter, and that what other people think about me is none of my business, and all those other cliches that everyone likes to remind me of when I start to feel beat down by the negativity….. emotionally is another story.
Us introverted writers are a sensitive bunch.
But after I followed a dear friend's advice and hugged a kid, hugged a cat, and had a drink (in exactly that order) I realized that I've been bothered by the wrong thing all along.  I really didn't care what this stranger had said about me.  What I cared about was the fact that in that moment, in that blog post, to that woman…
I had failed.
When someone follows a link and comes to my blog for the first time, I have ONE chance to win them over.  And I don't mean "win them over" in a slick salesman, motivational speaker kind of way.  I don't profit in any way from my blog, and I have never written with a goal of getting more readers.  But I do want to connect.
I don't like superficiality, I'm terrible at small talk, and I've never been accused of being the life of the party.  But if you want to have an actual conversation?  I'm your girl.  Which is why, when someone comes to my blog and promptly decides I'm judgmental/arrogant/a generally sucky person based on one post…. I feel like I failed. Conversation's over before it started.  "But she doesn't even know me!" I'll often lament to husband, who will respond with something to the effect of, "That's right, so why would it matter?"
It matters because maybe we could have had a conversation.  Maybe we could have connected in some positive way.  Maybe you hated, absolutely HATED the first blog post you read by me…. but would have loved the next twenty.  Maybe you would have discovered I'm not so awful after all.
I've carried a little metal link on my key chain for the past several years.  (It was given to me by a Church of Christ minister, lest you read my story and I think that I only harbor negative memories.  I don't)  It serves as a reminder that we never know when God might use us as a link for somebody else.  A link to God, a link to kindness, a link to compassion.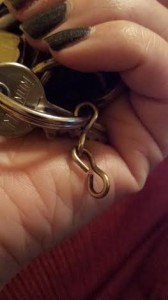 The really great thing about blogging is that it allows me to be that link fairly often.  Connecting with others and supporting each other on our journeys is sometimes the only thing that keeps me from pulling the whole thing down.  I get that not everyone is here to connect, and/or thinks I'm a terrible writer or has zero interest in anything I have to say.   That's cool too, when you leave quietly and I don't have to actually be made privy to anything I just mentioned.
Oh, but the ones who come out of the gate with the insults……
I try to give the benefit of the doubt, because their first impression of me is also my first impression of them. But, well, it's hard to shake hands with a fist.
And so, I've nothing to do but to think of the quote from What About Bob:
You know what I do? I treat people like they're telephones. If I meet somebody who I don't think likes me I just say to myself 'Bob, this one's out of order. Just hang up and try again."
Out of order phones. I just need to think of it – of them – as out of order phones. If for no other reason, because it's a whole lot better than thinking that I failed.