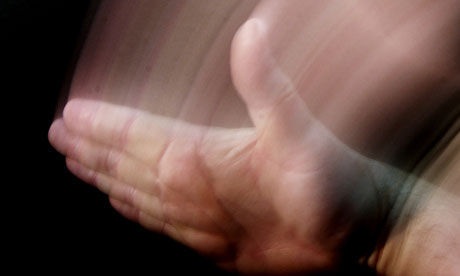 On March 27th, 2014, an NFL player named Ray Rice was indicted by a grand jury for third-degree aggravated assault on his then-fiancee, Janay Palmer.  This past week, the website TMZ released footage of him punching Palmer, which led to the Baltimore Ravens terminating his contract.
Also this week:  Adrian Peterson, another player with the NFL, was indicted for child abuse when his child's mother noticed whipping injuries on their 4 year old son's legs, and took him to a doctor who contacted the authorities. Peterson was benched by the Minnesota Vikings, but was reinstated three days later.
Like most people, I'm angry and saddened and frustrated by these stories of violence in the news.  In this instance though, the disparity of the public's reaction to these two similar cases has left me particularly cold.  I would say I was shocked, but sadly I'm not.  This is 2014, and children are still seen as second-class citizens.
While few are defending Rice – people overwhelmingly, and rightly, realize that it's not okay to use physical violence against your partner – many are rising up to speak out in support of Peterson, who was just as violent, only against a small child.  
"He should be able to discipline as he sees fit."
"That's just the way people are raised in the South"
"People need to butt out and let him parent however he wants."
"I don't get why he's in legal trouble for disciplining his own kid."
"Someone explain what Adrian Peterson did that was considered child abuse?"
"I don't see what the big deal is.  I got my ass whooped as a child, and I turned out fine."
Let me be very, very clear when I say this:  There is NO defense for what he did.  There is no defense or justification or excuse for hitting a small child, ever.  What he did was wrong.  It pains me to have say it out loud, but that doesn't make it any less true.  It is wrong.
And to the people who are out there saying, "Yeah, he took it too far.  There is a difference between spanking and beating.  There's nothing wrong with spanking/some kids need it/they have to learn, etc,"  I humbly offer that you are indeed part of the problem.
Stop.
Stop making it a game of semantics.  Stop pretending that it's okay to hit children if you add certain qualifiers.  Stop refusing to see spanking for what it is.  Stop believing that children are lesser beings than other humans.  Stop perpetuating the cycle of violence.  Stop ignoring the fact that if you're still advocating for hitting people smaller than you that you are not fine.  Stop equating DISCIPLINE with PUNISHMENT.  Stop defending people who hit their children, and start speaking out for the people who can't speak out for themselves.

And to my fellow Christians?  Stop using misinterpretations of the Bible as an excuse for hitting children.  It's an unending conversation, and I'm not having it anymore.  I will no longer publish, acknowledge, or respond to any comments that claim the Bible commands us to spank.  Read Jesus the Gentle Parent.  Read Gentle Firmness. Read Thy Rod and Thy Staff They Comfort Me (this one is a free download).  Read the words of the people who have put in the time and the research and the study that shows that the Bible just doesn't say what you think it says.  Don't let ignorance be an excuse.
As a Christian (and just as a caring human being), I believe that relationships should start from a place of love and respect.  I believe this to be true of ALL relationships, but especially the relationship between parent and child. Hitting has no place in any loving relationship.  Our children look up to us.  They learn from us how to navigate the world.  How to solve problems. How to get along with others.  How to deal with conflict.  Hitting our children, for any reason, raises them to be people who believe that hitting is a reasonable, acceptable way to interact with others.  It raises them to be people who, unless they fight to break the cycle, will hit their own children.
It raises them to be individuals who defend people like Adrian Peterson.
Stop the justification and the word games and the Bible-verse-slinging.  Spanking, swatting, switching, popping, tapping… paint it any color you'd like.  It's all hitting, and it's all wrong.