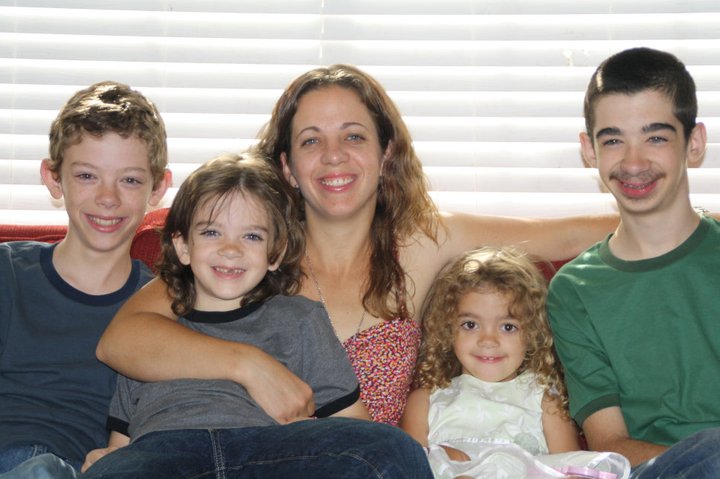 As an advocate of homeschooling, I forever hear the question, "But what about socialization?" and am inevitably filled with frustration. It's not the asker's fault of course, but it is a question born of a lack of understanding. A lack of understanding about homeschooling, and an even larger lack of understanding of the word "socialization."
When it comes to parenting, the socialization conversation's pesky little cousin tends to be, "It's not my job to be their friend; it's my job to be the PARENT."  Again and again it comes up on blogs, on parenting sites, and on social media.
"Be their PARENT, not their FRIEND."  No matter how it's packaged, worded, or framed, it all says the same thing, and issues the same dire warning.  Whatever you do, no matter how much you're tempted, for the love of all that is good and holy, never mix friendship with parenting.
I see these words, and I hear these warnings, and I can never help but think of that ubiquitous line from The Princess Bride:
You keep using that word.  I do not think it means what you think it means.
I've decided that people are just really, really confused about the meaning of the word, "friend." That's the only possible explanation I can think of for a why a person (or a lot of persons) would not only fail to see its importance in parenting, but actually deliberately EXCLUDE it, at any time, from their relationship with their children.
A friend is someone with whom you have a deep connection.  Someone you respect, and who respects you. Someone you can trust, implicitly.  Someone who encourages you, cheers you on, and believes in your dreams. Someone who has your back, no matter what. Someone who LETS YOU BE YOU.  Someone who listens without judgement, gives honest advice, and always has your best interest at heart.    Someone who has seen you at your best and your worst.  Someone who isn't afraid to call you out on your bullshit, and still loves you just the same.  Someone who lifts you up when you're down, catches you when you fall, and provides a port in the middle of your storm.  Someone who, if you text to say "I need you" at 2 in the morning, no matter the reason, no matter the circumstances, will steadfastly respond "I'll be right there." Someone who, even when it feels like the rest of the world has conspired against you, is on your side.
I'm going to be that person for my kids.   Every time, in all situations.  With no disclaimers and no apology.
Why on earth would anyone choose NOT to be that person for their kids?
And I'm told I misunderstand.  That when people say, "Be the parent, not the friend" that what they really mean is that you shouldn't make decisions with the goal of getting your children to like you.  But that's not a friend.  (And I'd also argue that if you're doing/saying things that cause the people in your life not to like you, perhaps that's something to examine in and of itself)
They'll say that they aren't going to be like peers who encourage or are silent about dangerous/unhealthy behaviors.  But that's not a friend.
They'll say that as parents they need to do the hard stuff, and can't be the "fun" one all the time… the one you get together with to lightheardedly hang out, shoot the breeze, or share a meal.   And while there's nothing wrong with easy relationships with pals like that if you choose it, that's not a true friend either.  A true friend is there for the fun and the difficult.  The lighthearted and the serious.  The laughter and the tears.
They'll say that "Sure, sometimes you get to be their friend, but sometimes you have to "be the parent.""  Or, "Sure, you get to be their friend, but being a parent has to come first."  But being a friend isn't something you do part time; or at least it shouldn't be.  It's not something you take on and off like a sweater.  That trust, that connection, that relationship should always be there, every time, in all interactions.
Finally, some people will tell me, "I'll be their friend when they're adults.  Right now, I'm the parent."  And this to me is the saddest – and riskiest – of all.   This is blunt, but…. there is a very very real possibility that if you don't choose that relationship with your children now, that they won't choose to have it with you when they are older.
"But, but…." they'll say, "You have to guide!  You have to protect!  You have to show them right and wrong!"  Of course you do.  Of course you're the parent.  I have never once advocated for permissive parenting on this blog, and certainly am not going to start now.
Being a friend, and being a gentle parent, does not mean being a doormat.  It means a partnership born of mutual respect, connection, and compassion… one in which both voices are heard, and both opinions carry weight.   And for those times when one opinion needs to trump the other?   Maybe someone is about to do something dangerous or foolish such as run into the street when a car is coming.  This is something I hear a LOT, both in this conversation, and the spanking conversation.   ("But how will they learn to stay out of the street??" And as an aside, I have four children who learned not to play in traffic, who have never once been spanked)  It's a silly argument.  If one of my children were in immediate danger,  of course I would respectfully intervene…. and I would do so as a responsible parent AND as a concerned friend.
If you forget the articles, ignore the experts, and tune out the noise, you realize that parenting is about a relationship.  And it's been the most intense, most meaningful, most rewarding relationship I've ever experienced. I can't separate the friend from the mom because my relationship with my kids is BASED on friendship.  The ultimate friendship. Deep friendship. Strong trust. True respect.  It's a friendship rooted in love and history (how many of your other friends have you literally known since they took their first breath?).  It's a friendship that's at once simple and complex.  It's a friendship that's often evolving and sometimes messy and always beautiful.  It's a friendship that's peaceful and safe and familiar. It's a friendship that's profound and life-changing and pretty much indescribable to those who haven't experienced it.
And it is always there, threaded through each moment, each word, and each interaction. Through the good times and the tricky times and the really tricky times.   I will always be their friend, and they know this.
I am their friend.
And I don't mean to minimize the relationship when I say that, because of course my relationship with my children encompasses friendship and so. much. more.  So I'm not suggesting that a parent-child relationship is only a friendship, because it's obviously more complicated than that.
But I tell you what…. it's a heck of a good place to start.