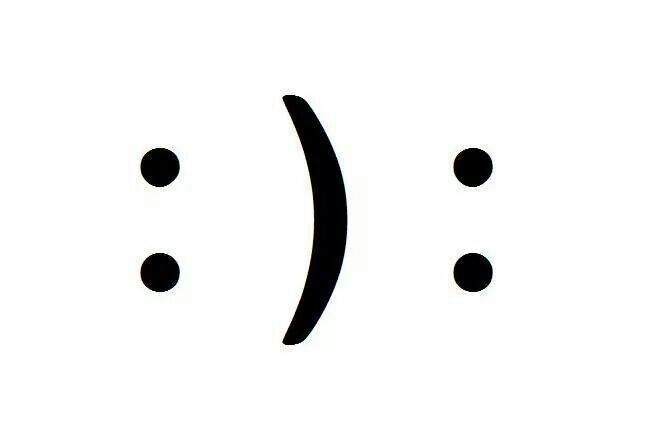 (If you're coming in late, you might want to read parts one, two, and three first.  Unless you like to start in the middle.  I won't judge.)
May 31, 2016
Music has played an integral part of my life since I was a little girl.  Whether I was down, or up, or somewhere in between, music moved me.  It inspired me.  It encouraged me.  No matter what I felt, music was there to bring it to the next level.   It brought me joy when I was happy.  It gave me bravery when I was scared.  It comforted me when I was sad.
And if I didn't want to be comforted, and instead just needed to wallow?  Music was good for that too.
And now, at 42, it still does all of the above.  Whenever I connect with a band or a song or an album I devour it … listening over and over and over until I've had my fill.  I crave music.  My soul needs music, the way a man in the desert needs water.  Music is like breathing.  It keeps me alive.  So it should come as no surprise that music has been hugely instrumental  (ha, see what I did there?) in seeing me through the last few difficult months.
I would hear a song that spoke to me, and it would become my anthem.
First, it was "Rise Up", by Andra Day.
After that, and for the longest time, it was "Bird Set Free" by Sia (who, it should be noted, also has bipolar) The first time I actually heard it was when Dalton Rappattoni (who also has bipolar) sang it on American Idol, and the lyrics just took my breath away.  I listened to her version, and his, on repeat for weeks on end.
On a related note, I'd be remiss if I didn't mention that Dalton and Sia's bravery in talking publicly about their disorders were more helpful and inspiring and important to me than I can even say.
Most recently, the band A Great Big World – Ian Axel and Chad King – released a new single called "Won't Stop Running".  As soon as I heard it, I knew that that was going to be my new song.
I have adored A Great Big World since they first came out with Say Something in 2013.  Their songs are beautiful and catchy – the kind that just reach deep down into your soul, their voices compliment each other perfectly, and they just seem like positive and lovely and genuine guys.  Their songs have been a part of my daily soundtrack for the past three years, and when I taught yoga, I included a GBW song on my playlist every time I could.  Getting to hear them live this year, at a tiny little venue downtown, was one of the highlights of what had been a pretty horrible year.  They are one of my all-time favorite bands, and their concert became one of my all-time favorite concerts.
The song, "Won't Stop Running" was written about Chad's journey with MS, but the theme of not giving up was one that is relatable to all of us… no matter what stories or struggles or obstacles we face.  When they realized the overwhelming response they were getting to the song, they started a #wontstoprunning campaign, and invited people to share their own stories on social media.  I was a little bit sad because I wanted to share my story…. but wasn't sure I wanted to be "out" with it yet.  So I watched while others shared their stories, and Chad and Ian responded here and there, and there were beautiful words of support and encouragement.  I even briefly thought about starting an anonymous Instagram account, just so I could join in the collective group hug.  But then, a couple of days later, they announced that they'd opened an email just for people who wanted to share their stories with them anonymously, and that they'd pick a couple to share.
And so I did.
The next day, I received a lovely and short and sweet and encouraging reply from Chad and Ian (that just happened to come on a really bad day when it was so sorely needed) And then, scrolling through Facebook, I saw that they'd reposted my story.  They posted it on Facebook and Instagram both, where hundreds of people "liked"  it and offered encouragement and kind words and support.  MY STORY!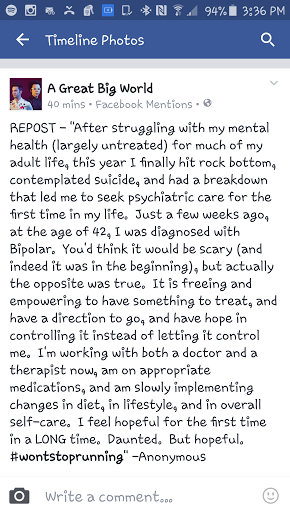 I was in awe 1) that they did such an awesome campaign for their fans in the first place, 2) that they chose to share my story, and 3) that it felt SO, SO GOOD to be honest about it, even – or especially? – if it was to a bunch of strangers.  I received nothing but support, at a time when I was greatly struggling with the idea of telling even those closest to me, precisely because I didn't know that I'd receive that same support.
It was huge for me, and it was healing, and it will forever earn Chad King and Ian Axel a special place in my heart.
If you're struggling with something – anything – I'd definitely encourage you to find the song that speaks to you, too.  If you're at a loss, feel free to borrow one of "mine" till you've found one of your own.  🙂
#wontstoprunning
xo
(Continue to Part Five)