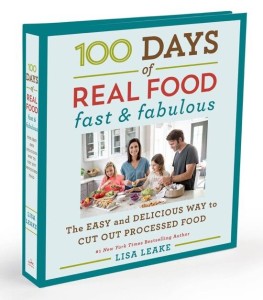 I adore Lisa Leake's cookbooks.
I always get a little nervous when I review new books  (in this case
100 Days of Real Food: Fast and Fabulous
)  What if I hate it?  What if I find it just so-so?  I'm of course always 100% honest in my reviews, and as a writer myself, skewering someone's work of art is not my favorite thing to do.  But thankfully that's not an issue here.
I love this cookbook.
From a purely physical and aesthetic standpoint, it is big and substantial, with a sturdy hardback cover, and nice thick pages.  There is a gorgeous photo on every page.  (Am I the only one who gets sad when cookbooks don't have pictures?  I need pictures.)  The recipes are clear and easy to follow, and use simple, whole food ingredients that you can find at a regular grocery store.
Last night, I made the white chicken chili, which is perfect for fall-like sweater weather – if you're lucky enough to live in a part of the country where the end of October actually is fall-like sweater weather.   It was easy to make, and Oh. So. Delicious.  Comfort food at its finest.  I doubled the recipe to feed my crew of six, and there weren't any leftovers when we were done.  Twelve enthusiastic thumbs up, and multiple requests to add it to our weekly repertoire.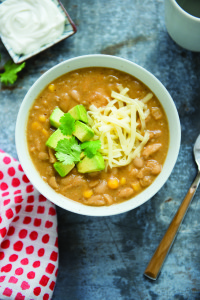 White Chicken Chili
Difficulty: Easy
Prep time: 10 to 15 minutes
Cook time: Less than 30 minutes
Makes 4 servings
GLUTEN-FREE
NUT-FREE
FREEZER-FRIENDLY
1 tablespoon olive oil
1/2 onion, diced
1/2 jalapeño, minced
1 pound boneless, skinless chicken breasts, cut into 1-inch pieces
1 garlic clove, minced
1 teaspoon chili powder
1 teaspoon ground cumin
1 1/4 teaspoons salt
1/4 teaspoon cayenne pepper
1/2 cup frozen corn kernels (no need to thaw)
Two 15-ounce cans white beans (such as Great Northern or cannellini), drained and rinsed
1 3/4 cups chicken broth, store bought or homemade (page 103)
1/4 cup heavy cream
TOPPINGS: Chopped cilantro, sour cream, grated Monterey Jack cheese, diced avocado, and/or corn tortilla strips
Whether you call this dish a chili or hearty chicken and bean stew, it's definitely a winner. The first time I made it for my kids, they asked me so many times what it was called, but by the end of the meal they cared much more about getting second helpings than remembering the name! If you have time be sure to double the recipe and store in the fridge or freezer, because, like most soups and stews, the leftovers are amazing.
1. In a medium soup pot, heat the olive oil over medium heat. Add the onion and jalapeño and cook, stirring, until the onion has softened, 2 to 3 minutes.
2. Add the chicken and cook, stirring occasionally, until it is lightly browned on the outside and no longer pink on the inside (add more olive oil if the pot starts to dry out), 4 to 5 minutes.
3. Toss the minced garlic and spices into the pot and turn a few times to coat the chicken evenly. Add the corn, beans, and chicken broth and bring to a boil. Reduce the heat to low and simmer, about 20 minutes.

4. Break up some of the beans with the back of a wooden spoon to help thicken the chili. Stir in the cream, garnish with the desired toppings, and serve!
100 Days of Real Food:  Fast and Fabulous
is available TODAY, and you can grab your copy
here
.