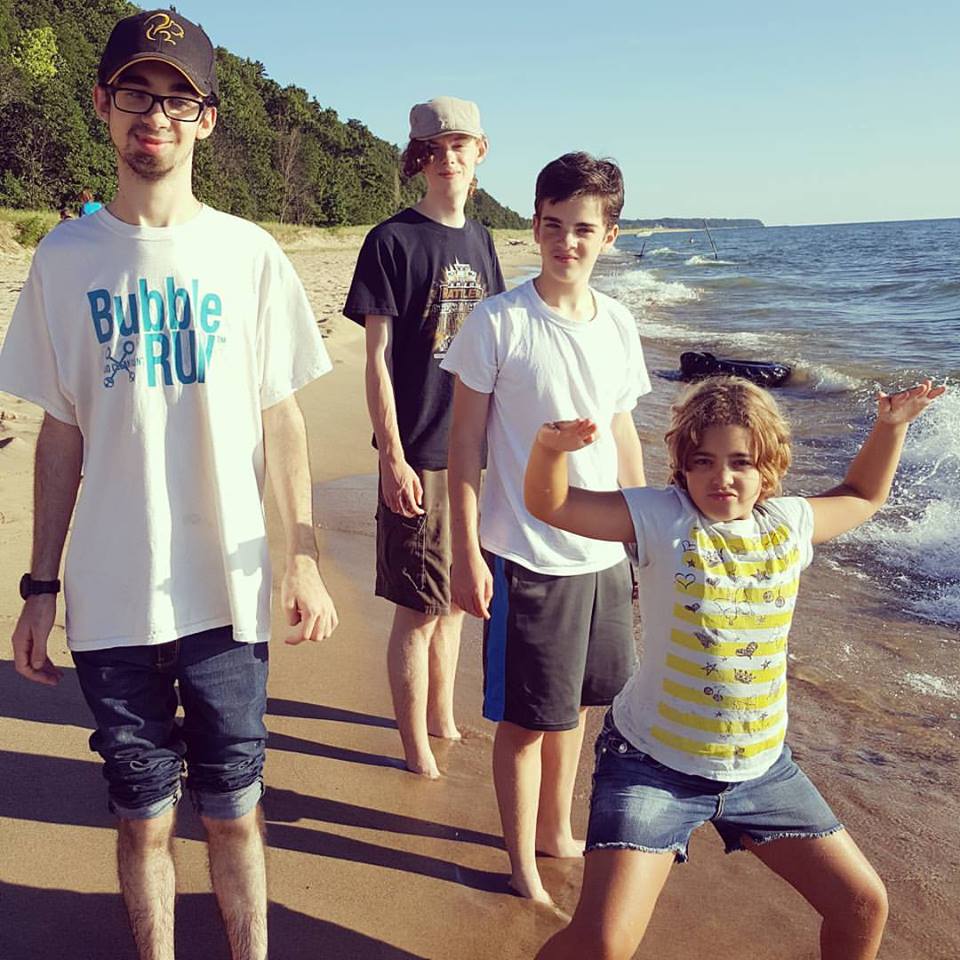 I just got back from a two-week road trip.  We went from Phoenix to Texas to Michigan to Wisconsin to Colorado to back to Phoenix.  We stayed with some dear friends who feel like family, we saw some new sights and new cities, we spent some time on the beaches in Michigan, and we bonded – Griswold style.
Most people I know seem to have very strong feelings about road trips.  They either hate them or love them.  I love them.  I find them completely and utterly and bone-crushingly exhausting… but I love them.  Watching the changing scenery, eating all the road trip junk food, collapsing gratefully in the hotel bed in some humid, obscure little town in the middle of Kentucky…
But the best part about road trips are the conversations in the car.  We talk about everything, from TV shows to music to religion to politics to a whole bunch of stuff I can't mention in polite society.  And also?  My kids make me laugh.  A lot.  I got in the habit of making a list of some of their most memorable quotes several years ago, and road trips (and their resulting dozens of captive hours in the car) prove to be a veritable treasure trove of new ones.  This trip was no exception.
Here are some of their greatest hits from the past two weeks, with no attribution, no commentary, and no context.  I hope you enjoy.  🙂
Here come the meat sweats.

Don't eat the baby!

Who farted?  (I said there would be no commentary, but I feel compelled to clarify that this question is asked not once, but many many many times any time our family is in the car for any extended period of time)

They're like little pockets of love.

Meat farts!!!

I have great balls.

So if you chewed it really hard and aggressively, it would have negative calories.

So a tsunami could hit us any second?

The meat sweats come and go.

Screaming is somewhat hot.

You drink one, and you twist the other.

It's like not hot, but I'm… wet.

There are sixteen ways to kill someone with tweezers.

I have a weird shaped face.

She'd look pretty funny if she didn't have a mouth.

I feel a baby. GIVE ME THE BABY. But the babies taste better.

My pickle's stuck.

Was that a joke, or was it just a happy coincidence?

They were talking about the size of their junk when they were in the morph suits.

This tastes like the smell of a urinal cake.

We started from the virgin.

I haven't pooped since Illinois.

Please don't peel my onion!

He has to have some alone time with his waffle maker.
It's all part of the experience.