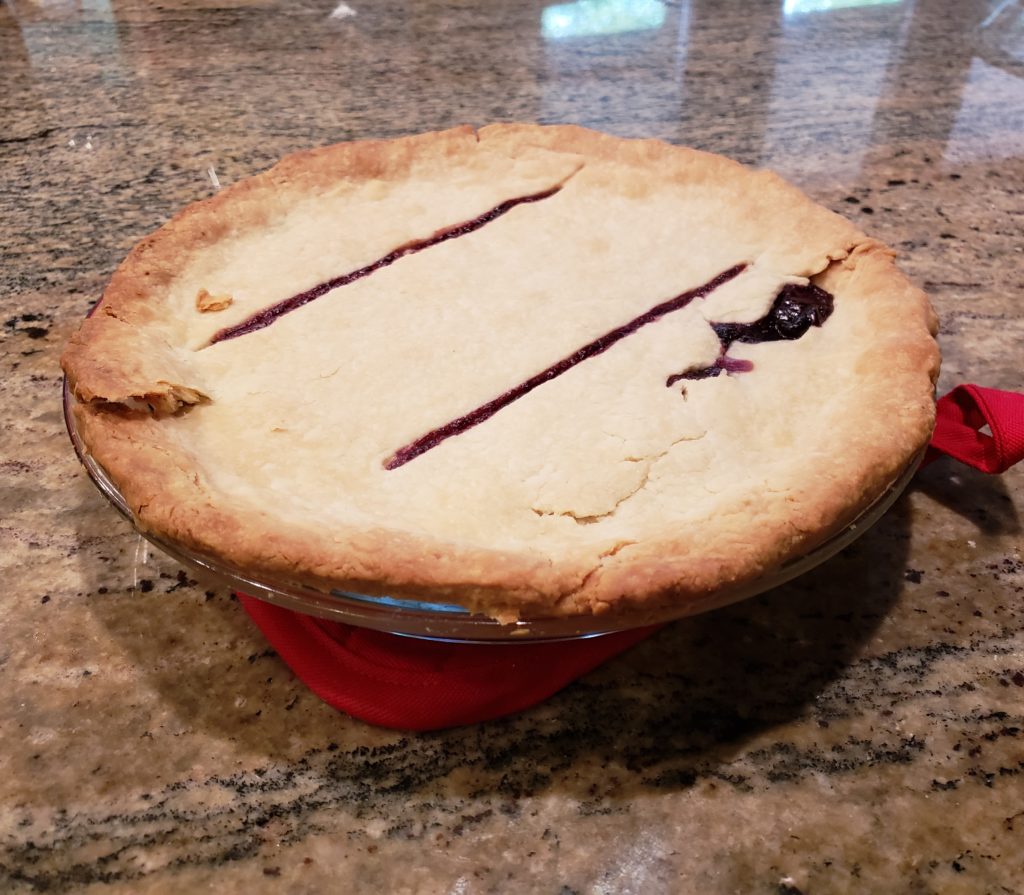 Everett (14 at the time of this writing) loves to bake.  He really enjoys cooking too, but baking is his first love.  He's always been fascinated with baking, ever since he was little, and he's continually adding to his baking bucket list.
Last night he baked his first pie.  It was a cherry pie, with homemade crust and everything.  Now, I'm not even typically a big fan of cherry pie…. but it was amazing.  Like, I had-to-stop-myself-from-licking-the plate amazing.  Flaky crust, delicious filling that was not too sweet and not too tart, and cooked to absolute perfection.
I credit unschooling.
There is a danger among eager parents and unschoolers, particularly when they're just starting out, to take their kids' interests and sort of steamroll over them… looking to force a preconceived notion of learning, or simply overloading them with information.   With the very best of intentions, parents will bombard the child with resources, with loosely related subjects, or with ways that their interest can teach them math or history or social studies.
This often backfires in a big way, squashes the child's natural love of learning, and makes them lose interest all together.
The beauty of unschooling is that you have the time and the space to let their interests unfold and expand naturally.  You can support them and encourage them without feeling the need to push.  Without feeling the need to create arbitrary constraints or conditions on their learning.  Without feeling the need to turn it into an artificial "teaching moment."
When unschooling is done well, living and learning are seamless.   Life is play.  Life is work.  Life is learning.  There is no separating the day or the moment into math, or science, or history.  It's all intertwined, and it's all there for the taking.
Which brings me back to Everett and his pie.
He has learned a lot through his baking, and he will continue to do so.  He's learned practical skills as well as stretched a creative muscle that can serve him well in all sorts of different pursuits.  For our part, we're constantly buying him his requested ingredients, answering his questions, and supporting the interest in any way we can.  Our job is to act not as teachers, but as partners and facilitators.  But one of the most important things we can do for him, and for all of our kids, is to give them space to play and figure things out and experiment on their own.  Sometimes the best thing to do is just trust the process, give them the appropriate amount of freedom, and then get out of their way.
If we'd seen his interest in baking, and grabbed onto it too tightly, we very well could have pushed him away from it completely.  Instead, he's organically moved through the basics to more and more complicated projects.  He's not intimated by new things, and he places no limits on his abilities.
The really cool part?  I get to watch.  It is truly one of my favorite parts about unschooling.  I get to be there.  I get to see the skills develop, and the light bulbs go off, and the pride of accomplishment settling in.  We've designed our lives in such a way that our kids have the time and space to pursue their interests with no arbitrary time constraints, and no parent-imposed hierarchy.  Everett's baking is as important as Tegan's acting as is important as Paxton's music as is important as Spencer's yard work.  If they wanted to spend a whole entire day, or a whole entire month, on one specific thing …. it would be welcomed and encouraged.
They are getting to learn in the way I'd always wished I could learn myself:  In a way that makes sense for them.  Not for me, not for their father, not for a teacher, but for them.
If I could only give one piece of advice when it came to uschooling, it would be this:
Let them live.  Let them play.  Let them learn.  And for goodness sake, let them make pie.