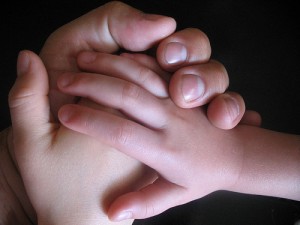 Yesterday morning, I was getting a bath ready for the three-year-old.  As I was adjusting the temperature of the water, I tossed several of the countless bath toys that live in the tub over to the other end, so I could get to the plug.   Tegan came up behind me, sounding extremely concerned.  "Stop!  Stop throwing those toys!"  At first I thought she was afraid it was going to hurt them in some way.
"Oh it's okay, they're just foam,"  I told her.
"But you should stop throwing them!"
"Why?"
"Because Daddy says we shouldn't throw."    Ah, there it was.  I'm not sure what the incident she was referring to entailed, but I'm very certain that he'd asked her to stop throwing only because there was risk of damage or impalement of some sort.  We talked about throwing for a minute, but I'm not concerned.  I fully trust that as she grows and matures she'll learn the nuances about throwing.  Throwing balls and frisbees and wadded up paper is okay.  Throwing pillows and stuffed animals is usually okay.  Throwing rocks is okay if they're thrown in a river, but not if they're thrown at someone's head.   Certain places lend themselves to throwing:  playgrounds, parks, her own house.  Others, not so much:  Church, the library, a dentist's office.  The socially accepted norms about throwing are filled with shades of grey, so a blanket statement of "we shouldn't throw," would be neither appropriate nor truthful.  Of course we can throw… but sometimes we shouldn't.
Hitting, however, is not a grey area.  It's black and white.
Hitting is wrong.  Forcefully striking another person is wrong.  Striking someone smaller and weaker than you is especially wrong.   There's a reason that hitting someone can land you an assault charge.  Being hit is hurtful, damaging, and violating… not just to a person's body, but to their psyche as well.   We should all be able to expect personal space and safety, as well as freedom from being harmed at someone else's hand.
Don't agree with me?  Ask yourself if you've taught your own children that they shouldn't hit.  Ask yourself if you'd sit idly by while your child was striking a peer.  Ask yourself if you wouldn't immediately react if your six year old were hitting a one year old.  Of course you would…. because you know hitting is wrong.
Per dictionary.com:
Hit:  (verb) To deal a blow or stroke to
Spanking is hitting.  That makes spanking wrong in and of itself, but I want to take it a step further.  Not only is spanking hitting, it is hitting someone much, much smaller and physically weaker than ourselves.   Say an average toddler is 25 pounds.  His mother is at least a good five or six times his size, his father possibly eight times.    If you'd intervene when your child were striking a smaller child (and you would), why on earth would an adult striking a child be in any way okay?   It's not.
A child depends on his parents, more than anyone else, to keep him nurtured, safe, and protected.   How frightening and confusing it must be then, when he finds himself in trouble in some way (he's angry or frustrated or made a mistake)  His feelings are big and scary and overwhelming, and he's then physically hurt at his parent's hand on top of it:  A hand that he expects to hold him, comfort him, protect him, love him.  Not hurt him.  Not only does it not help the situation, it exacerbates it.  It takes the pair further from a loving, connected relationship, and deeper into one of fear and mistrust.
If you're reading this and thinking, "But I'm a Christian!  I'm commanded to spank!  Spanking's biblical!", my answer to you is no, it's not biblical.   People use a few different justifications, but the (taken out of context) scripture most often used to propogate this misconception is this one:
"Whoever spares the rod hates his son,  but he who loves him is diligent to discipline him" Proverbs 13:24
The rod referred to in this scripture – as well as the other "rod" scriptures – is that used by shepherds of that time, which were used to guide and protect sheep, not hit them.   And honestly, if you're going to start pulling out old testament scriptures to justify your behaviors, then I hope you don't ever braid your hair or wear jewelry or dresses or fancy clothes, because the old testament prohibits that too.
In any case, as Christians we are no longer supposed to be living under the old law but the new one that came with Jesus, which is one of love and freedom.     I want to challenge you – seriously – to find me one scripture, any scripture, anywhere in the Bible, that even hints at the possibility that Jesus would remotely consider striking a child.   If you can bring me that scripture, we can talk… otherwise there isn't a conversation to be had.  I don't advocate against spanking in spite of being a Christian, I do so in part because of it… because to be a Christian is to aspire to be Christ-like.  And Christ would never, ever, hit a child.
Finally, if you are here as a former spanker, whether the last time you spanked was last year or last week or five minutes ago, please know that you are absolutely welcome here, without judgment and without reproach.   I can give you help, support and/or resources for taking another path.   I have made parenting decisions that I would now make differently, to be sure, but spanking doesn't happen to be one of them.  So I do hope that you'll share your story, because your testimony as someone who has walked through it is far more powerful than any that I could ever give.
And while it's true that we can't change the past, we can learn from it.  We can heal from it.  And we can make better choices, starting right now.