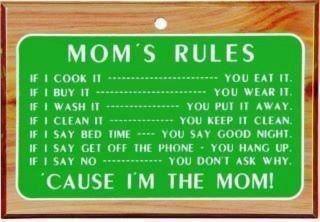 Once again, less than stellar parenting advice from Facebook.  I don't post rules in my house, but if I did, mine would look more like this:
If I cook it….. it's probably something we all like and enjoy.  Regardless, you are welcome to eat all, some, or none of it, according to your own appetite  and personal taste.

If I buy it… and I give it to you, it's a gift.  It's yours, with no strings and no conditions.

If I wash it… it's done out of a sense of love and cooperation. I wouldn't expect you to put it away for any other reason.

If I clean it… it's because I wanted it clean.  If I ask for your help in keeping it that way, it's a request, not a demand.

If I say bed time… it means I'm going to bed.  Because you're free to follow your own internal clock, you'll say good night when you go to bed… whether it's in your own bed, or nestled between mom and dad.

If I say get off the phone…  I'm being pretty rude.   If I need to ASK you to get off the phone, I will have a good reason, and I will do so politely.

If I say no…  it's most likely an issue of safety or unavoidable logistics.  You are always welcome to ask why, and you always deserve the courtesy of a response (one that does not include the phrase, "because I said so")

'Cause we're a family.