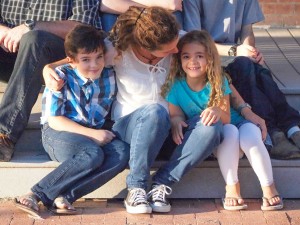 People often send me parenting articles that they come across on the internet, wanting to know my take on them.  This one (titled How (and why) to be the meanest mom in the world) landed in my inbox just last night, and I knew immediately I'd have to write about it. First, it's a list.  I'm a sucker for lists, and a list I can refute point by point?  That makes me all kinds of giddy.  More than that though, is the nerve that this idea strikes in my heart…. this pernicious and widespread belief that what kids need more of is meanness, and control, and "tough love."   I think they need very much the opposite.  What kids need is connection with their parents.
It also bothers me to see, again and again, parents being told that kids need to be MADE to do the right thing, FORCED to make good decisions, and TOLD to behave in a certain way.  Is this how little we think of our kids?That they wouldn't possibly do those things on their own unless there was coercion of some sort?
And I get it.  I do.  The post was written slightly tongue-in-cheek, and I'm sure that the mom who wrote it is not actually "mean" to her kids.  I'm also sure that, like me, she loves her kids, and only wants the best for them.
But that's where the similarity ends.   Because just as I never uses phrases like "pick my battles" with my kids (my children and I are partners, not adversaries) I also never want to gauge my parenting skill set on how "mean" I'm being.   Words matter.  Intentions matter.
And so ….  kindness.  When in doubt, I always try to choose kindness.
What follows is her "how to be mean" list, and how I would re-write it with kindness in mind.
One last note before I get to the list though.  The intro to her article says this:
When your kids tell you you're mean, take it as a compliment. The rising generation have been called the laziest, rudest, most entitled kids in history. Don't give up. They may think you're mean now, but they'll thank you later.
This is not something new.  Every generation has called the one rising up behind them the laziest, rudest, most entitled kids in history.  Every generation has shaken their collective heads and lamented "the problem with kids these days." This has been going on forever.  So I don't believe for a second this idea that this particular generation is worse in some way than the ones that came before it.  But even if it was?  The answer is kindness and compassion…. not a renewed effort to be more "mean."
1. Make your kids go to bed at a reasonable time.  Is there really anyone who hasn't heard how important a good night's rest is to a child's success? Be the parent and put your kid to bed.
My version:  Help your kids learn to respect their bodies' cues for tiredness (as well as hunger, thirst, etc) and make your home and their environment one that's conducive to rest.   A good night's rest IS important. This much is true.  But what that looks like is different for each child, just as it is for each adult.  Is "making" your child go to bed before he/she is ready, and possibly turning it into a point of contention, going to instill in them a healthy relationship with sleep in the future?  Sleep should be something pleasant, something that's looked forward to at the end of the day… not something to be put into your "mean" arsenal. Work with your child on this, not against him.  As homeschoolers, we're fortunate in that we can accommodate everyone's sleep schedule's, even if they're not conventional.  But even in families where kids go to school, sleep can – and should! – be approached kindly, respectfully, and keeping each individual's unique needs in mind.
2. Don't give your kids dessert every day. Sweets should be saved for special occasions. That's what makes them a "treat." If you give in to your child's demands for goodies all the time, he won't appreciate the gesture when someone offers a sweet gift or reward.
My version:  Enjoy your desserts, whenever you may have them.  Food should not be an area of contention either.  It makes me nervous (both as a gentle parent and as a nutritional consultant) when I see people making rules about when/why/how often certain foods should be eaten.  It's a good way to set up a lifelong unhealthy and unbalanced relationship with food.   A cookie's just a cookie.  We don't have dessert every day, but not because of any house rules against it.  We just don't want it every day.  And when we do want it?  We have it, even if we just had it the night before.  If we're craving brownies, we bake some.  If we want ice cream, we go out and get it.  If one of my kids asked to go to the dollar store for some Red Vines, I'd drive them.  Most of our daily diet consists of things like fish, fresh fruit, veggies, nuts and yogurt.  I'm certainly not going to stress out over some sweets.  As for "giving in to "demands""?  There's no "demanding" going on here.  Requests occasionally?  Sure.  And their requests are as respected as mine and my husband's.  And yes, they still very much appreciate the gesture when someone offers a gift… a sweet one or otherwise.
3. Make them pay for their own stuff. If you want something, you have to pay for it. That's the way adult life works.
My version:  Empower them and help them pay for their own stuff.   Again with the word, "make."  This is the second of five times that she uses that phrase, "Make them…"  Kids don't need to be made to spend or save their own money in order to learn about it.  All four of our kids get some money every other week, on payday.  It's theirs, to save or spend as they see fit.  We buy them things that they're wanting or needing as we are able, but they love knowing that they can buy their own things as well, whether it's a $1.50 soda from the drug store, or a pair of $60 headphones for their computer.  All four of them have healthy relationships with money, enjoy both saving and spending, and take pride of ownership in the things that they've purchased on their own.
4. Don't pull strings. Some kids get a rude awakening when they get a job and realize that the rules actually do apply to them.
My version:  When faced with a difficult or less than ideal situation, model for your children the best ways to handle it.    I have to admit, I found this one a little…. odd.  Adults pull strings and use contacts for themselves all the time, and the ones that I know are pretty darn proud of it too.  But if it's not something you want for your child, don't do it yourself.  As for whether or not it's the right or wrong thing to do?  I guess it would depend on the person and the circumstance.   I do know this though:  If I'm ever put in a position of being able to help my kids, or purposely stay out of it for no other reason than to "teach them a lesson", I will help them.  Every time. If they're not doing something that's damaging to themselves or others, I'm on their side.
5. Make them do hard things. Don't automatically step-in and take over when things get hard. Nothing gives your kids a bigger self-confidence boost than sticking to it and accomplishing something difficult.
My version:  Encourage and support them when they're faced with hard things.   Sticking with something and accomplishing a personal goal are powerful things indeed.  But again, kids don't need to be "made" to do them. Confident and well-adjusted kids do hard things all on our their own… when it is important to them.  Our job as parents is to encourage them and cheer them on, and let them see us determinedly pursuing our own goals as well.
6. Give them a watch and an alarm clock. Your child will be better off if he learns the responsibility of managing his own time. You're not always going to be there to remind her to turn off the TV and get ready to go.
My version:  Give them a watch and an alarm clock.  Sure, why not?  They're useful tools when kids are wanting and able to learn to use them.  They are not, however, behavior modification tools.   Both my older boys have started using alarms for various reasons, all on their own… whether they want to adjust their sleep schedules, get up at a certain time because they need to be somewhere, or meet a friend for a Skype or Minecraft date.
7. Don't always buy the latest and greatest. Teach your children gratitude for, and satisfaction with, the things they have. Always worrying about the next big thing and who already has it will lead to a lifetime of debt and unhappiness.
My version:  To this one, I would only add…. if you can't afford it.  Living to simply "keep up with Joneses" is a sad (and futile) way to live for sure.  There's always going to be someone with more.  And going into debt to get the next best thing is most definitely not a legacy you want to pass down to your children.  But your own attitude towards money and possessions and "stuff", and your own gratitude and appreciation for what you have is going to make a far bigger impact on your kids than what you do or do not have in the way of belongings.
8. Let them feel loss. If your child breaks a toy, don't replace it. He'll learn a valuable lesson about taking care of his stuff.
My version:  When your child feels loss, commiserate with him.  My very first thought upon reading this one was, "As a parent, do you not replace your things when they break?"  Accidents happen.  I know first hand the sadness and frustration when a treasured item is broken or ruined, whether it was due to carelessness or just plain rotten luck.   It feels terrible!  When it's happened to me as an adult, I've replaced the item when I was financially able, and took even greater care with the new one.  I give my kids the same consideration.  The lesson doesn't lie in deliberately depriving him of replacing it…. the lesson happened as soon as it broke.
9. Control media. If all the other parents let their child jump off a bridge, would you? Don't let your kids watch a show or play a video game that is inappropriate for children just because all their friends have done it.
My version:  Make informed and conscientious decisions for and with your children.   I would never do or not do something based on what other parents are doing.  The author and I agree on that point completely.  But all kids are different.  All families are different.  What might be "inappropriate" for one child could be totally benign to another.
10. Make them apologize. If your child does something wrong, make her fess up and face the consequences. Don't brush rudeness, bullying or dishonesty under the rug.
My version:  Apologize.  You know how kids learn to sincerely apologize?  When someone they love and looks up to sincerely apologizes.  You know how kids learn not to be rude,  bullying, or dishonest? When they have parents who don't display things such as rudeness, bullying, and dishonesty.
11. Mind their manners. Even small children can learn the basics of how to treat another human with respect and dignity.
My version:  Mind YOUR manners.   Say please and thank you.  Say excuse me.  Apologize when it's warranted. Be kind and polite to strangers and family members alike.  Treat others with respect.   Children who live among people with good manners, LEARN good manners.
12. Make them work — for free. Whether it's helping Grandma in the garden or volunteering to tutor younger kids, make service a part of your child's life.
Oh, this makes me sad.  My version:  Show them what service to others looks like.  If you want your children to develop a spirit of giving (and I want that for my kids too!)  LIVE it.  Let them help you help others.  Do kind things for them and with them.  Look for ways to bless other people.  If you make it a way of life, they will learn it.  If you make them work for others, you deny them the opportunity to do it of their own volition.
And if there's one thing that I've learned from my kids, it's that they have huge, huge hearts.   Sometimes we get – and need! – to just stand back and watch them use them.