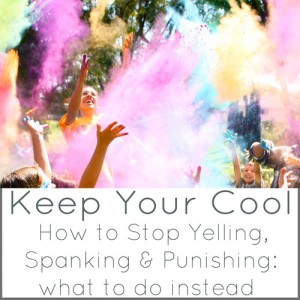 I was excited when I heard that Flo Gascon had written a parenting book.  I know Flo, and her parenting style based on kindness and connection was one I'd long admired.  I knew even before I started reading that it would be filled with valuable information for both new and seasoned moms alike.
I was not disappointed.
Keep Your Cool:  How to Stop Yelling, Spanking & Punishing is a workbook-style book that delivers on its promises and then some.  It is not a book that simply tells you what not to do as a parent, but a book that gives you all the tools you need to learn what to do instead.  It breaks it all down into small, manageable pieces, and gives you specific strategies that you can implement right away… strategies that can both transform your relationship with your children, and give you a lifeline during those moments of stress, conflict, and frustration.
What makes this book truly great is that Flo recognizes that parenting is not a one-size-fits-all proposition.  It is a unique journey for each and every parent, with each and every child.  The common thread between any successful parent/child relationship is connection and compassion, and this book understands that so very well.  The steps, suggestions, and questions it offers will guide you through tapping into that connection and compassion with your children, even (or especially!) on those tough days.
Simultaneously challenging and reassuring, the in-depth questions contained in each chapter help you do the self-reflective work that's necessary to improve your relationship and interactions with your children.  They illuminate areas that need improving, and help identify issues that may be holding you back.   Also worth noting:  Not once as I was reading this book did I feel bad about past mistakes as a parent.  In fact, I felt lifted up and encouraged, excited about new tools I could implement to make my relationships with my kids all the sweeter.
We've all had our moments where we feel like we've lost our cool with our kids (the author of the book included, some of which she graciously shares), but by doing the necessary work and employing the strategies outlined in this book, we can tip the odds in the other direction.
Keep Your Cool is simply a must-read for anyone who wants to be empowered to make better decisions, less knee-jerk reactions, and enjoy a happier and healthier relationship with her kids.