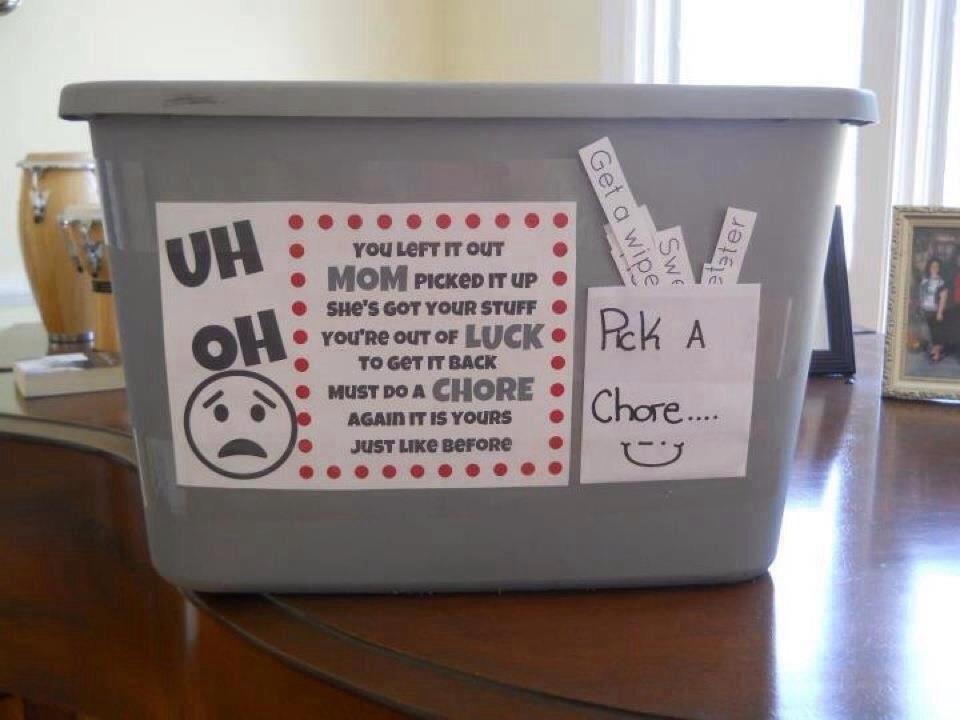 Earlier this week, another Pinterest gem went all crazy viral on Facebook.  It showed a photo of a large tupperware type bin with a poem taped to the side.  The poem informed the kids that they'd left their stuff out, so mom's confiscated it.  If they wanted to get it back, they had to do a chore to earn it.  Next to the poem was a little envelope labeled "chores", where presumably the child could pick from such tasks as sweeping, vacuuming, and doing the dishes.
Like most things that travel so widely so quickly, it left everyone in my newsfeed clearly divided by a line in the sand:  Those who thought the idea was brilliant, and couldn't wait to implement it in their own house, and those – like myself – who thought….. well, otherwise.  Over and over I saw the same questions aimed at those who didn't like it.   "Why wouldn't you like it?"  "What's wrong with it?"  And on my own Facebook page, "What's wrong with all of you??"  I'm going to ignore that last question, but to give people the benefit of the doubt I'll assume the first two are sincere.    Here then are the top five reasons this isn't something you'd find in my home, in no particular order:
It's not very nice.  Taking possession of something that doesn't belong to you is theft.  Let's just start there.  My children's things are their own, and it's not my place to take them, let alone take them and then demand they pay me in some way to get them back.  If I left my phone laying around (something that I do all. the. time.  that's been known to happen) I'd be pretty ticked off if my husband decided it was his until I'd scrubbed the bathtub or ironed his work shirts.  If I wouldn't like it done to myself, I wouldn't do it to my kids.
It teaches kids that chores are punishments.  Things like washing the dishes, sweeping the floor, and doing laundry are a part of life and a part of keeping a nice home….   something that we can either learn to do joyfully, or learn to view as… well, a chore:  something unpleasant, and something to be dreaded.  If a child grows up associating doing chores with 1) doing something "wrong" by not putting some treasured item away, and 2) being forced to earn said item back when it was taken away from them, which view do you suppose they'll carry with them into adulthood?

It places blame on kids for something we're all guilty of.  My husband is an admittedly much tidier person than I am, but even he will leave a cup on the end table, or his laptop in the living room.  I'm forever leaving that aforementioned cell phone all over the house, I'm constantly losing my mug of coffee, and it's not uncommon for me to have books, notebooks, and other current projects out where I can easily find them.  Things don't always get put away at the end of the day, and that's okay!  Sometimes we forget, sometimes we're busy with other things, sometimes playing games with the kids takes precedence over any clean-up.  The difference is, as adults we're not punished for it.  We deal with it the next day, and life goes on.

It emphasizes an "us versus them" mentality.   A system like this sets up mom as the dictator, and the kids at her beck and call.   A lot of people seem to think that if it doesn't work that way that the kids must run the house.  To the contrary, in our house we operate as a family.   We're all on the same team.  It's not my house, or my husband's house, or the kids' house…. it's our house.  We all work together, and we respect each other's things.  If something's left out, and it's an issue for someone else, it's no more simple nor complicated than this:  "Spencer, can you please come get your project off the counter so we can make dinner?"  And he comes to get it.  Problem solved.  If he can't come right that second for whatever reason, we move it for him, into his room or onto to his desk.  He knows it's safe, we have the counter back, and we can make dinner.  Problem solved. 

It's a temporary (and rather arbitrary) solution.  It's a quick fix.  I find it odd and somewhat confusing when people justify this kind of thing by saying "I'm not going to raise ungrateful little brats who don't respect their belongings."   This isn't going to teach them to respect their belongings.  It's not going to teach them to pick up their things.  It's going to temporarily make them pick up their things, because they don't want mom to take them, and/or because they don't want to have to do the chores to get them back.  Mom doesn't have to worry about the stuff hanging around anymore, plus she gets someone to do the chores she doesn't want to do anymore.  Win/win, right?  But what's going to happen when the child is grown, and mom's not around to confiscate his things?  What's he going to do when he lives on his own and can leave his stuff wherever he damn well pleases, without fear of someone snatching it?   Sure, it's easy and convenient to just take away all their things, but what is it going to accomplish in the long term?  And what is it going to do to your relationship with your child? If you want your children to learn how to take care of their things, show them how to take care of their things.  Help them take care of their things.  Let them see you taking care of your own things.  Put in the effort!  As for the mess, and the chores….
Everyone has his/her own personal level of tidiness.  Some people live and work best in chaos, and others are uncomfortable with anything but hospital corners and floors you can eat off of.  We have six people in our house, and all of us are different.  My daily struggle with this issue is the fact that messes make me crazy… and yet I tend to make a mess everywhere I go.  It's my struggle though.  Not my husband's, and not my kid's.   If *I* am bothered by a mess, I will clean it.  If I need help, I'll ask for it.  But it wouldn't be fair for me to impose my style on the rest of the family, nor would it be fair for them to impose theirs onto me.  We respect each other's differences, we communicate, we compromise, we give and we take.  We operate as a family.
This house is our haven.  The one place we're guaranteed to be free to be ourselves, and free to give and receive unconditional love.  To learn, to play, to experiment, to grow.  Sometimes our house is clean.  Sometimes it's messy.  Sometimes it's very messy.
And I wouldn't have it any other way.